There was an 'O.C.' Reunion?!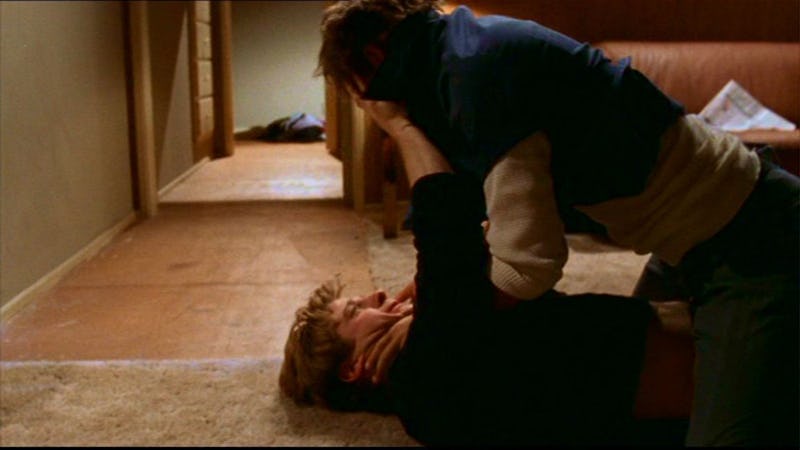 The last time Ryan and Trey Atwood were in the same room together, they were beating each other up, the younger brother only saved from death by a Trey-aimed gunshot fired by Marissa Cooper (R.I.P.). In real life, though, the relationship between the actors behind The O.C.'s most dysfunctional siblings apparently is a lot better than that of their TV characters, as shown by this recent photo of Ben McKenzie and Logan Marshall-Green posing with Marshall-Green's newborn baby. The Atwood brothers, smiling, reunited, and looking genuinely happy to see each other? It has to be a pre-Chrismukkah miracle.
The photo, posted on Marshall-Green's Instagram, shows the duo standing alongside a friend, holding Marshall-Green's three-week-old baby boy. Although the older Atwood sibling looks strikingly different than his O.C. days, McKenzie looks pretty much the same as he did back then — that is to say, he looks like he's in his thirties. Mostly, the actors just seem thrilled to be together, their close bond evidenced by the caption of the photo calling McKenzie and the friend "sharks and uncles" to Marshall-Green's baby.
It's great to see the O.C. siblings together again, and not only because it gives us an excuse to watch this scene (and this parody) on repeat for the rest of the afternoon. It's been seven years since the show went off the air, but we still miss our Atwoods, along with our Cohens, the Nana, Captain Oats and the rest of the O.C. crew. This mini-reunion is certainly nice, but if the full cast doesn't get together at some point soon, we're going to have to get Che to lead us in protest.
Check out the photo below:
Images: FOX; direwolfpack/Instagram