So, "Harry" Is Feeling Pretty Guilty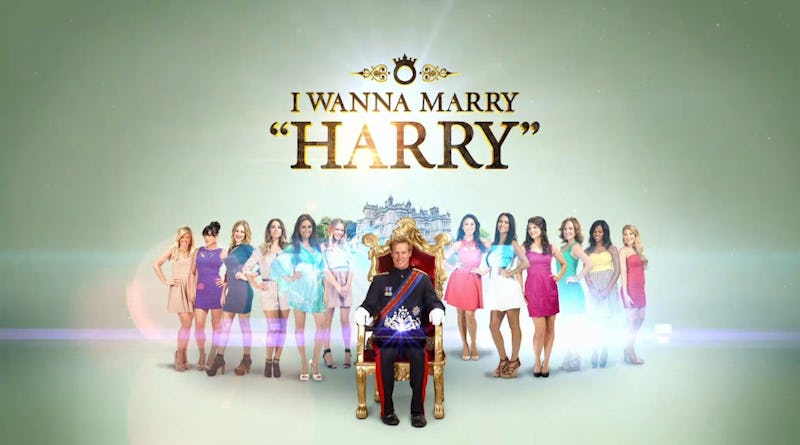 If you haven't heard of upcoming reality show I Wanna Marry "Harry," you NEED to hear of upcoming reality show I Wanna Marry "Harry." It is one of the most insane television concepts that has ever existed. The show takes 12 American women and tricks them into thinking they are competing for Prince Harry's love. The problem is, the real Prince Harry would never actually do this, was in a long-term relationship at the time of filming, and would never actually do this. The women are actually swooning over a Prince Harry look-a-like who is just a normal guy from England named Matthew Hicks. Now that the show is getting ready to premiere, Hicks has been busy promoting I Wanna Marry "Harry" and it sounds like the stress of pretending is really getting to him.
Over the weekend, Hicks promoted the show in Memphis taking advantage of the fact that the real Prince Harry was known to be in Memphis for a wedding at the same time. The guilt hit Hicks hard when people began congratulating him on things like his military work and praising his mother Princess Diana's charity. Hicks told My Fox Memphis, "I honestly hate the deception part. I just, I feel really guilty." The "deception part" is the ENTIRE show, so he must have felt guilty the entire time. Hicks went on to say, "It's quite scary. I'm genuinely glad I'm not an actual celebrity because it would be absolutely terrifying."
As for the show, Hicks explained that the women weren't exactly told they were meeting Prince Harry specifically. He said, "Subtle hints were dropped here and there and they were left to come to their own conclusions and I had to play the part." When asked if he's in love, Hicks responded, "That's a big word. Maybe." Wait... what? He must mean with someone he met after filming ended. There's no way this thing resulted in a real relationship.
It does look like Hicks is pretty good at playing the part. He tricked a number of Memphis residents into believing he was Prince Harry before he revealed his true identity. Reportedly, a group of young school boys were fooled and after finding out the truth one exclaimed, "'Screw him. Screw him. Wow you guys just messed with me."
As for the women on the show, they should not have been as easily deceived. It's one thing to believe that Prince Harry is out and about in Memphis after he's been confirmed to be in the city, but it's completely different to think a royal would really compete on a reality show.
Image: Fox