Your First Look At 'Mockingjay - Part 2'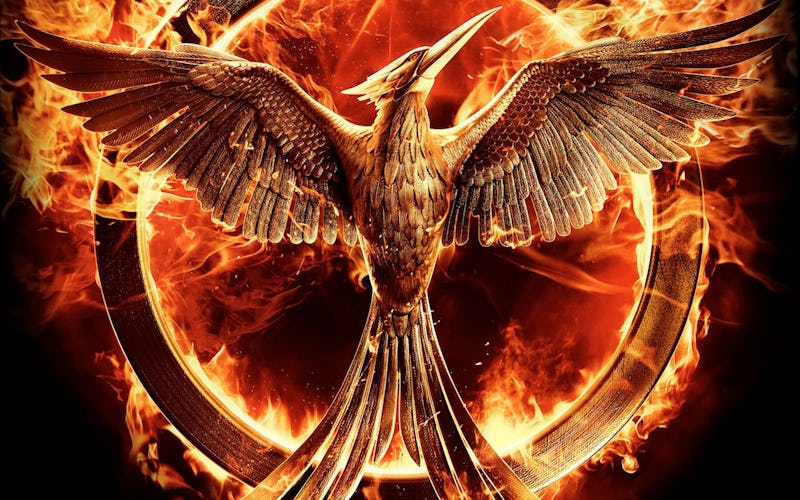 The next film in The Hunger Games franchise comes out in just six months, but we haven't heard much about it other than casting rumors here and there. We haven't even seen a Mockingjay Part 1 trailer yet. But while that film remains a mystery (or as much of a mystery as a movie based on a book can be), we're starting to learn a little bit more about Mockingjay Part 2 which is c urrently filming in Paris. The fourth and final film is being shot in some pretty public areas which fortunately has allowed French fans to capture some of the moments for all of our enjoyment. So to tide us over until November, here are 11 things we know about the film so far:
KATNISS IS MISSING HER TRADEMARK BRAID
In the pictures fans have snapped, Jennifer Lawrence's hair is tied back in a ponytail instead of her signature braid hairdo. We can only hope this is a deliberate decision that makes sense for her character and not like when the Harry Potter franchise decided to stop making the cast wear the Hogwarts robes in favor of more Muggle-type clothing. Hopefully this hair change-up is something more akin to Katniss wanting to stay undercover or something. But if that's the case she probably should ditch the arrow pack she's carrying because she's known everywhere for her weapon of choice: the bow.
THE STAR SQUAD WILL HAVE AN ALTERCATION WITH THE PEACEKEEPERS
The special rebel team containing Gale, Katniss, Peeta, and Natalie Dormer's Cressida among others will have a battle with some capitol soldiers as seen in this video.
THE LIZARD MUTTS LOOK WAY LESS INTENSE LIKE THIS
In the book, the Peacekeeper/Lizard mutts are terrifying and will stop at nothing to claim Katniss' life. They even do kill a few people (who I won't name in case you're crazy and haven't read the book yet). But when you watch that heartbreaking moment on screen, just remember behind the creatures are guys chilling out in blue onesies.
THE PEACEKEEPERS ARE PRETTY HOT
Also something to keep in mind when they're ruining everything you love.
THE CAPITOL WILL EMPLOY PROPAGANDA POSTERS
It's very WWII of them.
THE REBELS ARE ALSO GRAFFITI ARTISTS
Not wanting to be outdone by the capitol and their posters, sometime between taking over the city and trying not to die, some rebel soldiers apparently have time to stencil some Mockingjay logos over the pro-capitol sentiments.
PEETA WILL BE IN HANDCUFFS
I knew it was going to happen and yet I still wasn't prepared. Poor hijacked Peeta :( At least he and Katniss seem moderately chummy here.
THE CAPITOL SHOPS COULD EASILY BE MODERN DAY DISPLAYS
Want to feel scared for the future of our country? Take a look at the window displays for the capitol set. They could easily have been plucked from NYC's 5th Avenue. Don't believe me? Here's a sample display from Barney's in 2011:
KATNISS FOUND THE SNUGGLIEST JACKET EVER
Her capitol disguise is basically a wearable comforter and I want one.
THE CAST IS STILL AS AWESOME AS EVER
Here's Sam Claflin (Finnick) dancing to "All the Single Ladies."
LITERALLY EVERYTHING IS RELEVANT TO FANS BECAUSE WE ARE STARVED FOR CONTENT
Now please enjoy this fan video of a peacekeeper tank parking (yes, really) while you wait for real footage in a hopefully-soon-to-arrive trailer.
Images: Lionsgate; Instagram/la_luna_02 [3]; Instagram/sugarcubesonfire [3]; Instagram/muhammed_krky; Instagram/py0103c; Martha Sorren