Katherine Heigl Is A Badass In This New Trailer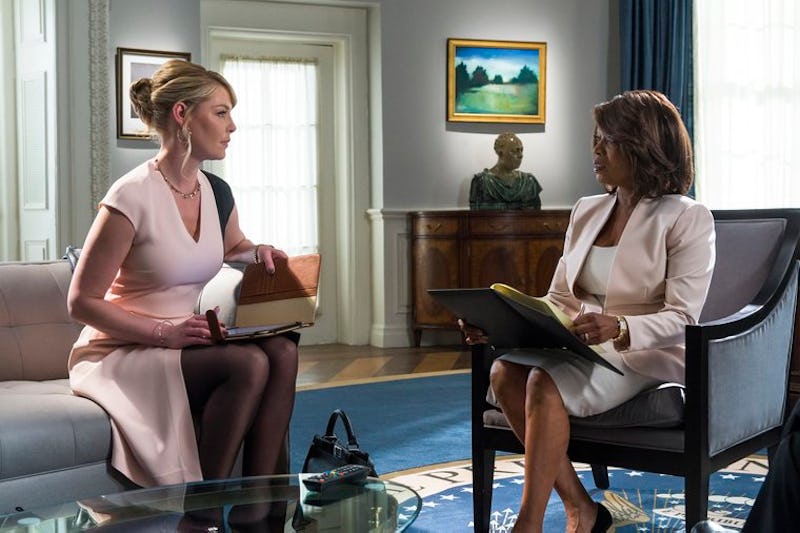 Long gone are the days where Katherine Heigl found herself always playing the part of the high maintenance female character in romcom movies. Now, the former Grey's Anatomy actress has made her way back to television to star as Agent Charlie Tucker in NBC's new show, State of Affairs. After much discussion and anticipation for this series, NBC has finally released an official trailer, and it is beyond promising.
From the trailer, we've already learned that Tucker, who is a CIA analyst, loses her love, Aaron, in an assassination attempt in which both his mother (who happens to be the president) and Tucker appear to be present. From there, we're given a sneak peek into Tucker's life, as it appears she struggles with Aaron's death and copes through one night stands as well as diving in to her career alongside the president.
Her kick ass attitude and ability to work under intense pressure makes the show that much more exciting to see. The show's trailer has already hinted that it will commence with the capture of an American doctor by terrorists who threaten to kill off other innocent Americans unless the U.S. releases 25 prisoners at Guantanamo Bay. Additionally, the story continues with Tucker and her team believing they know where a terrorist leader, Abdul Fattah, is hiding.
Despite the fact that there was "a strong possibility" to kill Fattah, but "not a certainty," according to Tucker, she is seen in the Oval Office where the president is confronting her about why she withheld high value intelligence. Though everyone else seems to believe Tucker will be suspended, it's quite apparent in this trailer that the president and Tucker have an understanding with one another. Whether or not this is because of Tucker's relationship with the president's son is yet to be known, but it's obvious that the relationship between Tucker and the president will be one to watch.
"I'm not talking to the CIA analyst," the president says during the trailer. "I want to hear from the woman who loved my son enough to bind her life to his. The woman that was going to give me my grandchildren. I want to hear from her. What's she gona' do?"
If you don't already have chills from this statement, then you will after watching the trailer.
"I am going to find every last person who had anything to do with the death of your son," Tucker says. "And I'm going to end every single one of their lives."
State of Affairs is going to be full of drama, suspense and probably all the feels as we watch Heigl's character trace Aaron's killers while also watching her own back. Though Heigl's role was definitely dramatic in Grey's Anatomy, she truly appears to be stepping it up to prove to all the haters that she's bringing her A game once again.
Image: Abishag Productions