Get Ready To See More Elsa On TV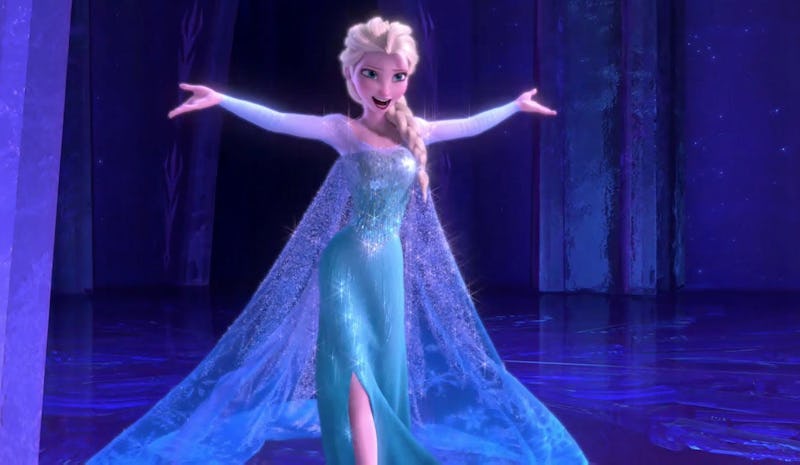 Are you tired of singing "Let It Go," yet? We heard last month that Once Upon A Time's showrunners were gunning for a Frozen crossover, but it won't be Kristen Bell reprising her role as adorkable Anna like we originally thought. During Sunday night's Season 3 finale, Once Upon A Time introduced Queen Elsa and there's officially a new princess with power in Storybrooke. You'd better make some room, Emma.
OUAT showrunners Edward Kitsis and Adam Horowitz teased that there would be a Frozen crossover in the cards for the series in mid-April, but we had no idea that it would be so soon. You know, considering there are still a handful of worlds and characters from classic Disney films still left in the deck for Once cameos. The final few minutes of OUAT's Season 3 finale returned to the site of Zelena's failed curse and her portal that played a huge role in the finale.
I'll admit, at first I thought, from the sprawling, magical, blue fluid, that we were getting the Genie from Aladdin. But no, after completely covering the symbol carved into the stone of the old barn, the blue goo turned into Princess Elsa — sparkling blue gown, epic blonde braid, and all. We didn't see her face, only the character sashaying out of the barn in a way that reminded us exactly of Elsa slamming the doors of her castle behind her at the end of "Let It Go" in the animated film.
Could it be that Bell wasn't set to reprise her role of Anna at all? Could Kitsis and Horowitz have tapped her for Elsa instead — I mean, it wouldn't be a huge transformation for her to turn into the icy sister of her animated character. Bell's already got the blonde hair, fair skin, and refined features necessary to pull off the character. Either way, we've never been more excited to see yet another Frozen riff.
I hope the cold doesn't bother anyone in Storybrooke...
Image: Walt Disney