You Won't Hear His Sweet, Sweet, Voice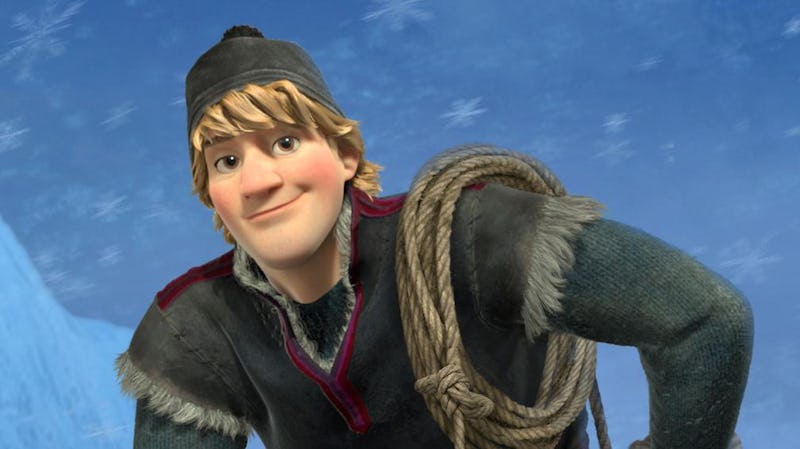 My favorite part of Frozen — despite all of the hoopla surrounding "Let It Go," and the fact that baby Anna looks like my actual little sister when she was a kid — is probably when Kristoff sings his lonely, misanthropic mountain song to his reindeer. So naturally, I was disheartened to hear that Jonathan Groff wouldn't be in a stage adaptation of Frozen, whenever that dream really comes to fruition. And here's the crazy party— that's all according to him!
Groff told Vulture that he'd love to reprise his role, but that he didn't think he suited his cartoon alter ego's physical demands. He said:
I would, but I'm not as hot as my cartoon character [...] It would be a big letdown. I'm not blond or six-foot-five.
But he is mega talented. Not only that, he has experience playing a heartthrob. In fact, Broadway fans likely know Groff as the heartthrob Melchior from Duncan Sheik's Broadway sensation, Spring Awakening. And all Gleeks know that he was quite the heartthrob as Jesse St. James — how could anyone forget that epic and literally balletic (as in: Lea Michele — Prima Ballerina) rendition of "Total Eclipse of The Heart" from Glee — and that ending! So heart wrenching!
Anyway, I know I"m one of the many who would rather have the original voice of Kristoff perform as the character in a live adaptation. And when Frozen really does make it to the stage, the bigger casting issue we'd have to deal with is that Idina Menzel, the vocal goddess that she is, looks nothing like Elsa.
But regarding Groff, he did mention he would consider joining Broadway cast of Frozen if there was one stipulation:
If they let me sing "Let It Go."
Oh, how we wish. That would be delightful. Can someone please give him a solo show? Let him host SNL? Something? Anything to hear his pipes on that song.
Image: Disney