17 Beach Bags To Help Carry Around All Your Sun Supplies This Summer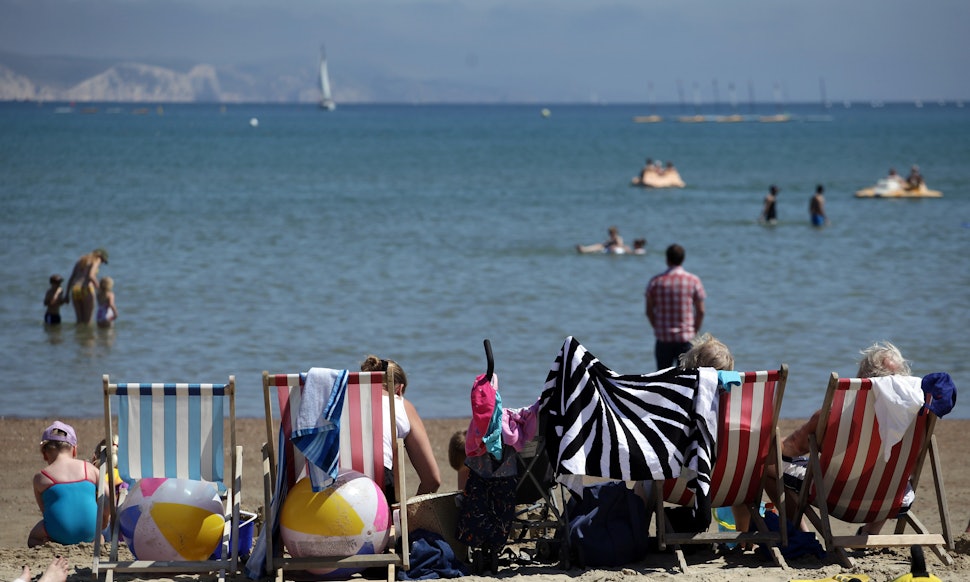 Matt Cardy/Getty Images News/Getty Images
It barely feels like spring, but the official start of summer is only about a month away...AKA the start of a season (hopefully) filled with countless hours spent poolside. And while lazily lounging under the sun is, in itself, pretty easy, there are a lot of affairs to get in order before any beach bum days can commence.
First, get your hands on an awesome bathing suit. Then, make sure to stock up on sunscreen. Afterwards, it's time to roll out the beach towels. Finished with these essentials? Then how about getting your hands on some great new books to read this summer?
But as we all know, you can't spend a day at the beach with only these items. We need sunglasses and snacks and probably some summer hair products, too.
Good thing there are plenty of cute beach bags on the market to hold this massive amount of stuff you'll be schlepping around. Click through to see 17 that I highly recommend getting your hands on for summer.
Turquoise Mesh Tote
Lolo Madison-Sea Horse Mesh Tote, $60, Nordstorm
Instead of grossly gathering at the bottom, sand will slip right through the mesh material of this whimsical sea creature tote.
Woven Plastic Bag
Beach Bag, $7, H&M
This budget-friendly bag offers plenty of space for all of your poolside essentials.
Neon Yellow Tote
Seafolly Beach Tote Bag in Lime, $57, Asos
Bright enough so you can find your spot in the sand after you've taken a dip in the ocean.
Clear Beach Tote
Clear Beach Tote in Citron, $68, Vera Bradley
A partially see-through bag is very intriguing.
Color Blocked Beach Bag
Beach Tote Bag, $35, Victoria Secret
Bold color blocking for the beach.
Canvas Beach Tote With Mat
Beach Tote With Mat, $110, Need Supply
This bag has everything: a roll-up beach mat and two interior pockets.
Silicone Beach Bag
Silicone Bottom Beach Tote, $30 Daily Look
An absolutely genius way to make sure the contents of your bag don't get soaked.
Anchor Beach Bag
Anchors Marine Beach Tote, $125, Unison Home
Nautical is never not appropriate during summer.
Neoprene Beach Bag
Beach Bag By Leghila, $195, Shoptiques
This neoprene bag is soft, durable, and super easy to clean.
Straw Beach Tote
Napa Straw Tote, $98, Free People
Doesn't this bag exude beach babe vibes?
Sequin Beach Tote
Sequin Beach Tote Bag, $54, Accessorize
For a fancy beach affair.
Oversized Beach Bag
Random Kindness Bag, $12, Modcloth
This gigantic bag is big enough for two, probably even three.
See-Through Beach Bag
Juicy Couture Silverlake Beach Item Clear Beach Tote, $98, Amazon
Show off the contents of your bag with this clear option.
Holographic Beach Bag
Space and Time Tote, $58, Nasty Gal
A fashion-forward option to pair with your unique swimsuit.
Nautical Beach Bag
Clich Rope Tote, $29, American Apparel
Another nautical option to consider.
Geometric Beach Tote
Sunnylife Tote Bag, $59, John Lewis
A flat bottom is convenient for letting totes sit upright in the sand.
Reversible Beach Bag
Trifari Reversible Beach Tote, $94, Helen Jon
Not only is this patterned bag reversible, but it's also machine washable. Double win.