Why Jena Irene Will Win 'American Idol'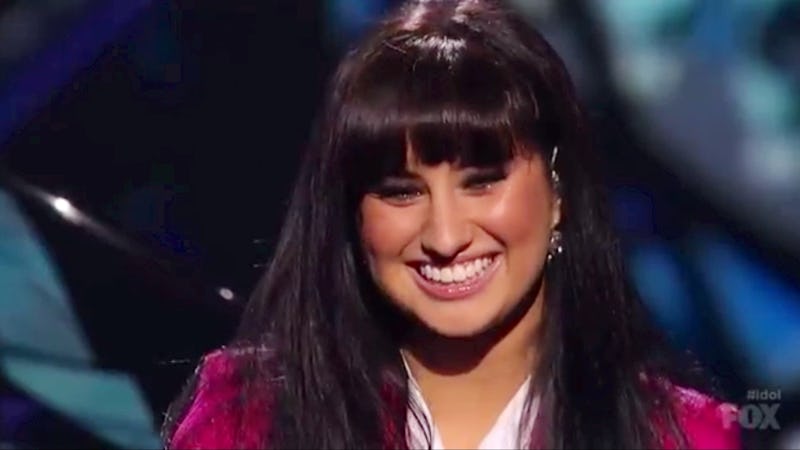 Listen up, folks. You may not know it yet, but Jena Irene is going to win American Idol . If you find yourself on any American Idol message boards — don't act like you're not out there arguing one side of the Kris Allen/Adam Lambert one-two-finish 'til the day you die — there are two fairly opposing opinions of Season 13 of American Idol: either that this show is totally losing steam, and there's nothing they can do about it; or that this season has some of the most marketable talent in years; or in my opinion, both. Whether two people watch the officially picked-up 14th season, or this show continues to chug along, giving Randy Yo-broach-and-Warby-Parker money for another decade, I firmly believe that Jena Irene and Alex Preston stand a chance to carve a place for themselves as popular recording artists, and Jena stands the greatest chance to have American Idol funding that little project the moment the confetti falls on Wednesday, May 21.
Jena, Alex, and Caleb all have musical lanes that are very clear to their vocal styles, which is really the most you can hope for from an American Idol contestant: focus. But each of them also has a fairly specific artistry that aids them in subverting the middle of those lanes they're intended for, and rather, staying on the outskirts, keeping their range wide enough to capture an audience every week, or on, say, a whole album. If Caleb is the past — '80s rock and metal — and Alex is the present — Jason Mraz' kid brother — then Jena Irene is the future, with a sound that could fit perfectly into the soon-to-be girl-dominated Billboard charts.
One Direction is at the pinnacle of their worldwide domination, firmly established in what they're doing, with the door even more firmly shut behind them for another boy band to rise; Bieber is battling his demons every day; and I still manage to know that Austin Mahone is "a thing" without knowing a single thing about him. The time is ripe for a rise of the girl popstar family, with Demi Lovato as the cool mentoring aunt, Miley Cyrus as the cousin who sneaks cigarettes in the bathroom, and Ariana Grande as the weird, beautiful older sister paving the way with raw talent. Oh, and Little Mix — I guess they're like the girl power British exchange family. But the music industry still needs Jena: a girl who can front a band, rock a stage, and write her own damn music, all at 17-years-old.
And it's not just that she's marketable outside of American Idol… she stands a good chance to win this thing too. There was a brief mid-season moment where Caleb captured everyone's attention with his sheer vocal power and obvious confidence on stage. Those things are important, but those things do not a popular vote win. Caleb also tends to do things like run his mouth in an AfterBuzz TV interview recently, using some pretty unsavory language about his least favorite kind of fans. His confidence has begun to lean on the side of cocky, and it's made him comfortable in his performances, sticking to what he does best in classic rock, whereas Jena and Alex are still zigging and zagging, applying what they do best to before unexplored genres. Take, for example, Jena's killer performance of the reimagined Elvis classic, "Can't Help Falling in Love." Watch it once, watch it again, make it your alarm tone.
Though Alex has a completely different sound than Jena, I think he's just about as marketable in the current music scene. His sound is similar to a few current popular artists, but different enough to make you buy a record. Not to mention, the guy is a real musician, the master of multiple instruments, and clearly a talented songwriter. Like Jena, he comes with a ready-made original single, "Fairytales," that he's already debuted on American Idol. But what makes Alex marketable as an artist — his quirky performance style and shy musicality — isn't generally what gets America's votes. He'll never be the type to own a stage, work the crowd, and make flirty eyes with the band. And we haven't seen him grow the way that Jena has from week to week: let's not forget, the moment we heard her ready-to-go-to-i-Tunes original song, "Unbreakable Me" first, was when she was battling for a wild card spot to earn her way into the Top 13. And here she stands, the only female in the top three, and one of the most fun to watch young contestants that AI stage has ever seen.
American Idol needs a winner like Jena Irene: a non-white-boy-with-guitar, who's still appealing to young girls and 20-somethings, with a spot wide open for her in the music industry... Hayley Williams can only front one band, after all. After her final performance last week, Harry described Jena as "simply...incredible," but I prefer Keith's description: "like, a musical platypus." I have no idea what it means, but who's really a fan of musicians you can put into perfect little boxes? And with performances like these, Jena won't be put in a box anytime soon. (Except a glass box in a recording studio... where she'll be recording her album... after she wins American Idol.)
Image: Fox