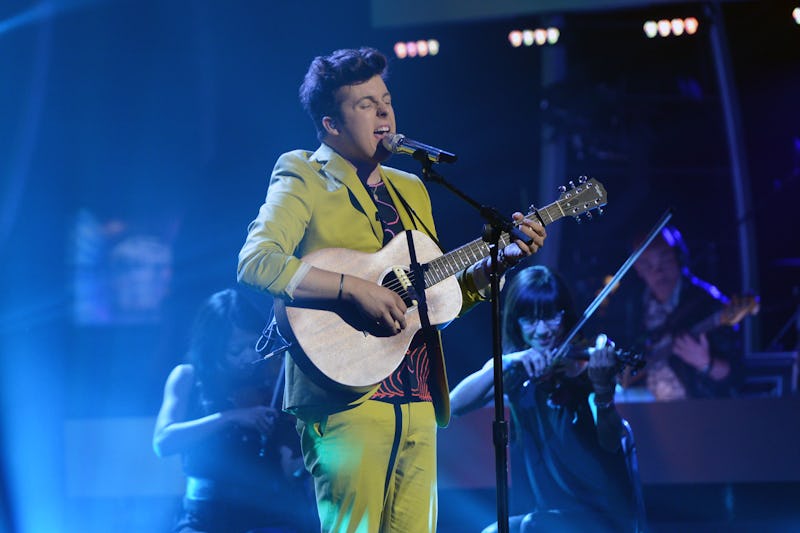 This is it, kids. We are so close to the Season 13 finale of American Idol , we can almost touch Ryan Seacrest's finely-coifed hair. But there's one thing we've got to do before we get there: Dwindle our trio down to a duo. Will America go for one of the raucous rockers, Jena Irene or Caleb Johnson, or go for someone a bit subtler, the troubadour Alex Preston? While Wednesday night's stellar performances prove it's going to be a tight race for the finals, when you take the whole season into account, it's really Alex Preston's time for elimination. Update: Preston was eliminated Thursday night, meaning the finale will be a rocking battle between Jena Irene and Caleb Johnson.
Earlier: Let me preface this by saying Alex is extremely talented. He's definitely carved out his own unique spot among the other contestants this season. Alex can play multiple instruments. We saw his songwriting chops when Alex performed his original song "Fairytales." His renditions of modern hits as well as his own twists on tried-and-true classics have been a refreshing addition to this season, but even with all of this, Alex doesn't have what it takes to live up to the title of the American Idol.
If the objective of Idol is to still find the best undiscovered singing talent in the country, then Alex just isn't it. His soulful, folky voice is pleasant to listen to and has distinguished him from the other contestants this season, but it's definitely not the best out of the bunch. He doesn't have the strength and power as Jena Irene and Caleb Johnson have shown belting out number after number this season. His voice also comes off as whiny at times, which is definitely cringe-worthy. I don't know if I could listen to an entire album of that.
Alex's guitar skills have certainly complemented his stripped-down vocals, but seeing the instrument strapped onto him week after week as he just stands in the middle of the stage gets old after a while. The first few times, it's cool, but it really does nothing to enhance the quality of his performance. We've really only seen Alex sing without it during group numbers, and in those cases, he looks kind of lost and not sure what to do with himself — and he's not exactly the next Phillip Phillips. Sorry, but Jena totally outshone him during a trio performance of American Authors' "Best Day of My Life," while he and Sam Woolf looked like they were performing in a high school talent show.
Although Alex has been one of the most consistent contestants of the season, having never appeared in the bottom three, he's also never really had "a moment" (Jennifer Lopez's buzzword this season) like Jena and Caleb have. He switched it up a bit during his performance of Bastille's "Pompeii" by playing the drums, but it wasn't as memorable as Caleb's mic catch during "Sting Me" or Jena's electric "Creep." This time next week, will we even remember what Alex sang on Wednesday night?
What this really comes down to is that Alex just doesn't have that star quality that's going to make me want to listen to his music over and over again or watch him in concert for two hours. Even Harry Connick, Jr. speculated what it would be like to watch Alex in concert, asking if he would just sing song after song, or would he actually interact with the audience. I just get a rush of excitement when I hear Jena and Caleb's names that I don't get from hearing Alex's. He doesn't exude that confidence when he sings that his fellow contestants do to demand my attention.
If Alex makes it into the Top 2 Thursday night, it wouldn't be the worst thing ever. He's a perfectly good, capable Idol contender. But shouldn't our "American Idol" be so much more than that?
Image: Michael Becker/FOX