Huge 'Cinderella' News. Huge.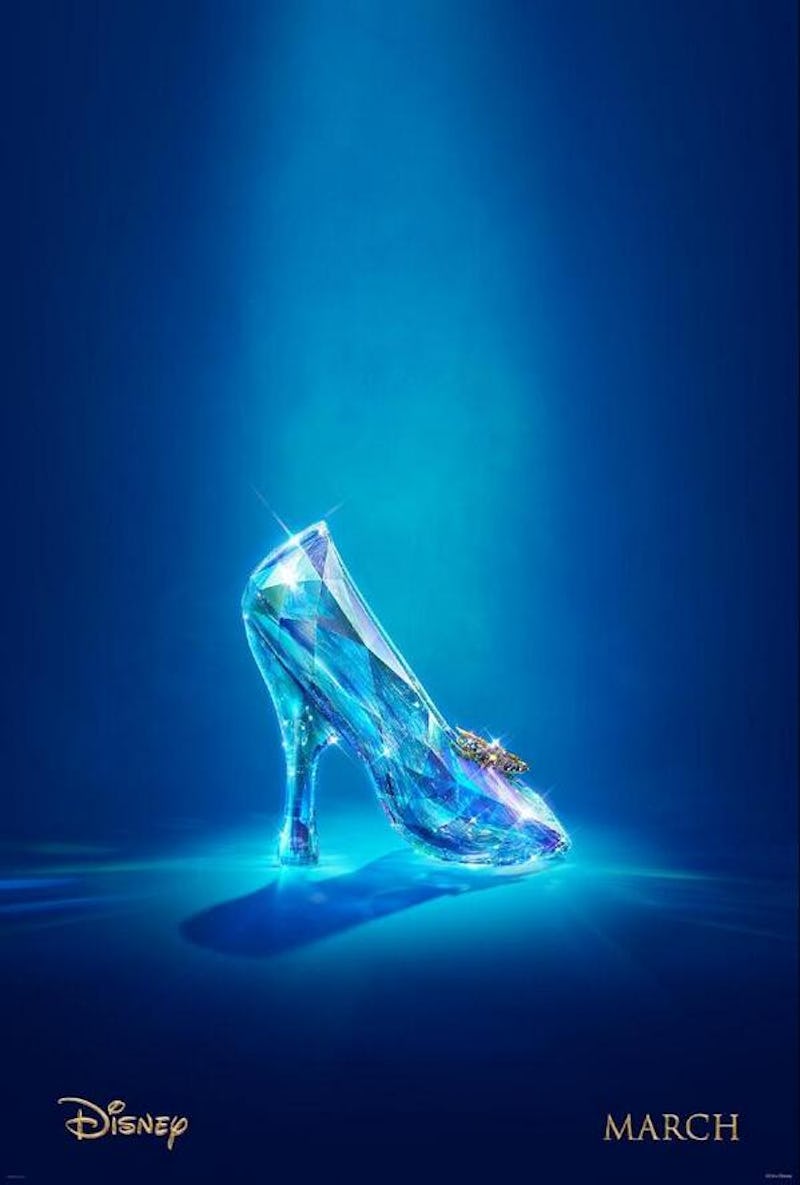 Sweet nightingales are singing today. There's been hardly a whisper about Disney's live-action Cinderella since 2013 when Disney announced that Downton Abbey 's Lily James would play Cinderella and that they'd begun shooting the film. But on Thursday morning, Disney dropped a huge glass slipper regarding the Kenneth Branagh-directed film — there's a teaser trailer for Cinderella. And a new poster. And a former Game of Thrones star on the cast list. It's big news, people!
You're excited, I know — but don't get too excited. The first teaser trailer for Cinderella is more or less a 360-degree view of a glass slipper. But it is set to some beautiful, majestic music, so it's got that going for it. Other than that, this is a big, glorious announcement that live-action Cinderella will hit theaters in March 2015, a little less than a year from now. Luckily, what the teaser lacks in actual film footage, the official film synopsis reveals just about everything you need to know:
The story of "Cinderella" follows the fortunes of young Ella (Lily James) whose merchant father remarries following the death of her mother. Eager to support her loving father, Ella welcomes her new stepmother (Cate Blanchett) and her daughters Anastasia (Holliday Grainger) and Drisella (Sophie McShera) into the family home. But, when Ella's father unexpectedly passes away, she finds herself at the mercy of a jealous and cruel new family. Finally relegated to nothing more than a servant girl covered in ashes, and spitefully renamed Cinderella, Ella could easily begin to lose hope. Yet, despite the cruelty inflicted upon her, Ella is determined to honor her mother's dying words and to "have courage and be kind." She will not give in to despair nor despise those who mistreat her. And then there is the dashing stranger she meets in the woods. Unaware that he is really a prince, not merely an apprentice at the Palace, Ella finally feels she has met a kindred soul. It appears her fortunes may be about to change when the Palace sends out an open invitation for all maidens to attend a ball, raising Ella's hopes of once again encountering the charming Kit (Richard Madden). Alas, her stepmother forbids her to attend and callously rips apart her dress. But, as in all good fairy tales, help is at hand, and a kindly beggar woman (Helena Bonham-Carter) steps forward and – armed with a pumpkin and a few mice – changes Cinderella's life forever.
Well, bippity, boppity, boo. We already knew about Cate Blanchett and Helena Bonham-Carter's involvement and respective roles. But do you recognize that other name floating around in there? Richard Madden, or as I like to call him ROBB FREAKING STARK, is on board as the a prince. From the King of the North to a French prince — I always knew he had the face of royalty. Now, that's something to be excited about whether you're a Game of Thrones fan or not.
Unlike Disney's modern-riff on Snow White, 2012's Snow White & The Huntsman, it doesn't look like we're getting a more modern, female-empowering take on this classic tale. At least, if we are, Disney and Branagh aren't letting us know about it with this synopsis. It seems pretty straight-forward fairytale-y to me — Cinderelly is all about kindness, reducing her to a meek, tattered servant girl, but when she meets a prince and her fairy godmother, her luck is about to change. Maybe Disney could've incorporated a little bit of the spunk and independence Drew Barrymore brought when she played an older, Cinderella-type in 1998's Ever After?
Either way, we're excited. (No, not just because of Robb Stark.) It's been a long time since we got any decent news about Disney's latest live-action adaptation of a classic fairytale. But we've got one question — will there be talking mice?
Watch the first teaser trailer for Cinderella here:
Images: Disney; DisneyD23/Twitter