If Disney Characters Lived In Our World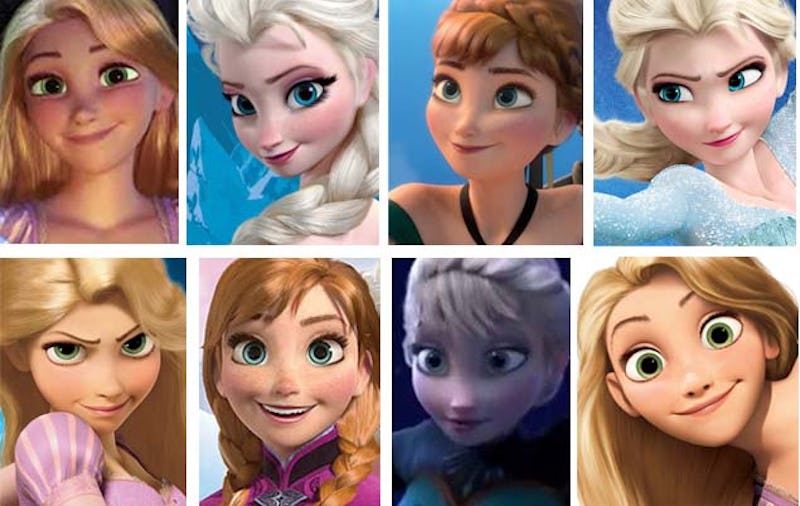 Ever wondered what your favorite Disney characters would look if they existed in today's society? Like for example if Frozen's Anna was your best friend? Well now, Tumblr user Punziella is bringing our dear heros and villains into the modern age. As can be seen in some examples below, Punziella created a variety of awesome illustrations capturing her modern day interpretation of some of our most beloved princes and princesses, like Rapunzel and Hans — and they're just as adorable as you'd imagine.
In each of the illustrations, Punziella dresses the character in some of today's biggest trends. Hans is in a sharp suit, and Rapunzel rocks bangs, a pleated skirt, and a sleeveless denim button-down shirt. Meanwhile, Frozen's Elsa is the epitome of feminine and pretty in pink lace and a matching bag.
My two favorite interpretations? Merida of Brave looks like a hipster straight out of Brooklyn, still letting her wild, red curls fly, but with an updated wardrobe of denim shorts, a T-shirt, and a flannel wrapped around her waist. And Flynn Rider from Tangled, wearing a white tee, leather jacket, and what look like RayBans, bares a strong resemblance to 50 Shades of Grey actor Jamie Dornan, but with David Beckham's fashion sense. Is it weird to be attracted to a Disney character illustration? Whatever, I'm just going to say it: Flynn Rider's hot!
Punziella has also done modern edits on various Dreamworks characters, like those from How to Train Your Dragon, and even drew up an introduction with Jack Frost and Rapunzel, seen below! Bet Flynn wouldn't be too happy about that one!
To see more of Punzeilla's work, check out her Tumblr.
Images: punziella.tumblr.com/