9 Books to Read if You're Missing 'Mad Men'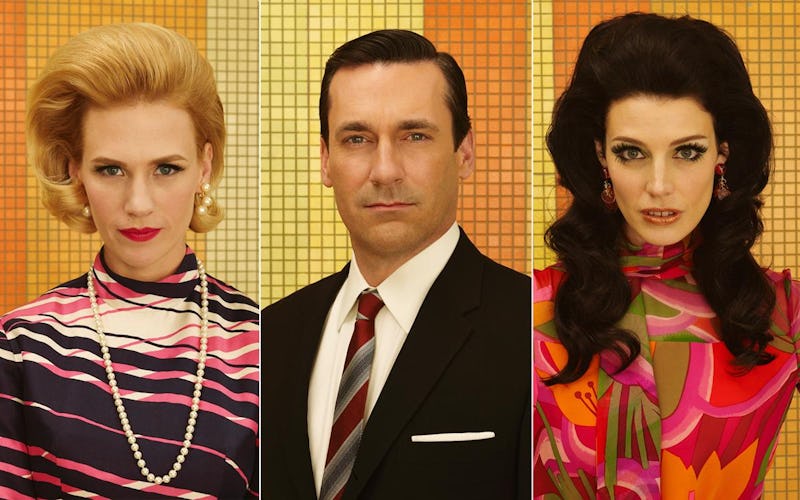 The good news is we haven't see the last of Mad Men. The bad news is we'll have to wait until next spring to find out what happens to our favorite dysfunctional ad executives. Season 7 has gone on a break, leaving us searching for ways cope during their absence. We're bereft, stumbling around town wearing pillbox hats, pouring whiskeys during business meetings, and embarrassing dates by serenading them with "Zou Bisou Bisou" in front of their co-workers.
Now for some good news again: books can fill that gaping void in your life that Mad Men left behind. Of course we've already noticed the Mad Men characters reading books on the show. So some of the titles below — including The Best of Everything, Valley of the Dolls, and The Group — are sort of like getting a personal recommendation from the characters themselves.
The rest of the books on this list share similarities to Mad Men in other ways. They hearken back to a time when working women were "girls" who fetched coffee for their bosses. If these women weren't fighting to be taken seriously in the workplace, they were buckling under the pressure to be perfect wives and homemakers. And if Don Draper has taught us anything, it's that men have troubles at work and home, too. There's a little something for everyone.
BUtterfield 8 by John O'Hara (1935)
This novel takes place decades before our Mad Men take the stage, but it shares a similar aesthetic. BUtterfield 8 (that's not a typo in the title — it's a telephone number!) has a lot to offer: a gritty urban atmosphere, fur coats, sex, glamour... and murder.
Better Homes and Gardens New Cookbook (1953)
The Better Homes and Gardens New Cookbook — now in its 15th edition — makes multiple cameo appearances on the show, so if you want the true Mad Men experience over the break, you might want to track down the 1953 version and whip up some midcentury treats. Maybe some pinwheel cranberry salad with mayonnaise and liverwurst sandwiches will cheer you up?
The Best of Everything by Rona Jaffe (1958)
The Best of Everything was the first novel Robert Gottlieb ever edited. "Why does it work as well as it does?" he muses. "Is it the pre-Mad Men retro effect — the up-to-the-moment typewriters and telephones of the 'girls' at the publishing house, with their little hats and white gloves, their worries over their virginity?" Nah, he decides. It works because of the irresistible premise: five women land publishing jobs in the big city and try to follow their dreams.
Rabbit, Run by John Updike (1960)
(Check out the movie tie-in cover. Amazing.) Seems like Don Draper and Harry Angstrom (a.k.a. "Rabbit") have a lot in common. They both feel trapped in their suburban towns and their conventional marriages, and they both channel their restlessness in reckless ways. Rabbit, Run kicks off a whole series of books, so if you're into the whole emo philandering married man type, Rabbit can keep you warm until Don Draper comes back into your life next year.
Sex and the Single Girl by Helen Gurley Brown (1962)
Listen up, single ladies of Mad Men: "No girl is really ready for marriage, I believe, until she has weathered the rigors of a romance with a Don Juan. It's part of her training." This is just a snippet of the best tips from Sex and the Single Girl. The guide was an instant hit, selling more than 2 million copies in three weeks.
The Group by Mary McCarthy (1963)
This engrossing novel chronicles the lives of eight women who graduate from Vassar in 1933. Betty (Bryn Mawr, class of '51) reads this book in the bathtub on the show. Years later, The Group inspired Candace Bushnell to write Sex and the City.
Valley of the Dolls by Jacqueline Susann (1966)
It's not nearly as trashy as you might think! Okay, it is as trashy as you might think, but it's also a riveting story about three women in a man's world, trying to achieve their own versions of success. Don might relate to this sentiment from the novel: "Everyone has an identity. One of their own, and one for show." Originally published in 1966, Valley of the Dolls is one of the bestselling novels of all time.
Diary of a Mad Housewife by Sue Kaufman (1966)
This one is for Betty! Bettina Balser is a dissatisfied housewife in the 1960s. She begins scribbling down her thoughts and fears in a secret diary. The 1970 movie version is perhaps even more well-known than the book. Starring Carrie Snodgress and Frank Longella, it was nominated for several Academy Awards and Golden Globes.
The Easter Parade by Richard Yates (1974)
The Easter Parade, a story of two sisters with divorced parents, shows surprising insight into the trials and tribulations of the urban working woman. Emily Grimes enters the workforce in the 1930s, paving the way for the Peggys and Joans of the world. In a pinch, Revolutionary Road will also slake that Mad Men thirst.
Image: AMC