Bey & Jay Just Released a New Video, on Purpose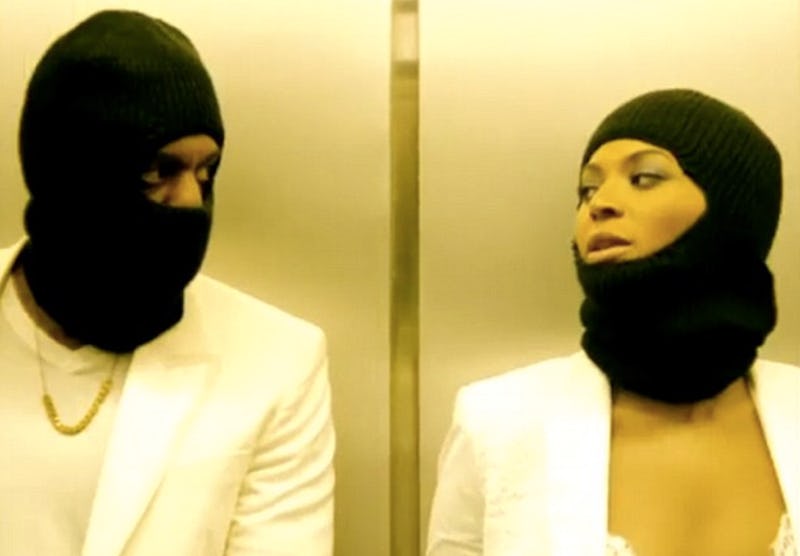 It's been a busy week for the Carter-Knowles family. After the notorious Standard Hotel elevator video was leaked Monday showing Solange Knowles kicking and punching Jay Z, a new Beyonce and Jay Z video called "Run" was dropped late Saturday night. "Run" is a promotional video for the duo's summer tour On the Run, which kicks off next month in Florida, and is chock-full of cameos from A-listers like Sean Penn, Jake Gyllenhaal, Don Cheadle, Guillermo Díaz, Emmy Rossum, Blake Lively, Rashida Jones, and Kidada Jones. (It's directed by Melina Matsoukas, the same woman who directed Beyonce's video for "Pretty Hurts.") While "Run" is clearly meant for public consumption, it does have something in common with that elevator vid: violence.
The nearly four-minute long trailer has more gunshots than a Quentin Tarantino movie and none of the hilarity. In "Run," Beyonce and Jay Z play lovers on the, you guessed it, run from the law and it's like "'03 Bonnie and Clyde," only terrifying. Their crimes are unclear, but there are allusions to drugs, gangs, and bank robbery. Perhaps, though, the biggest crime in the clip isn't the violence, but Blake Lively's tough-girl accent. Woof. Have we learned nothing from The Town, people? Nothing?
Anyway, who knows if they've been planning all along to drop "Run" this week, but the timing, juxtaposed with the elevator video, couldn't be better. There's nothing Beyonce does better than release a surprise video, and now, she and Jay Z just gave us a whole new video to talk about. Leaked security footage is soooo last week.
Enjoy.
Image: Jay Z's Life+Times/YouTube