She Shouldn't Win 'RuPaul's Drag Race'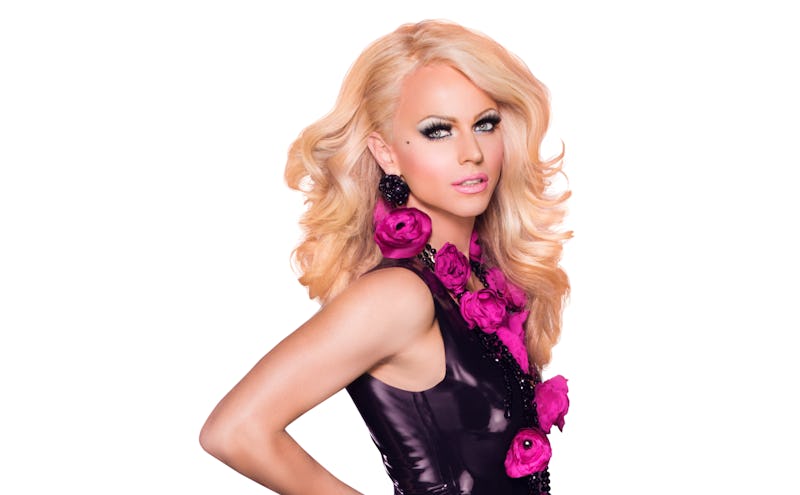 Better buckle up, kittens. We've almost made it to the finish line of Season 6 of RuPaul's Drag Race , and this race has been tighter than the six pack on a member of the Pit Crew. Will America's Next Drag Superstar be Courtney Act, the fishy queen from Down Under, Adore Delano, the trashy chic newbie, or Bianca Del Rio, the potty mouth joker with a heart of gold. Each brings her own fierce flavor to the table, and we're sure any of them would make Mama Ru proud to follow in her footsteps.
While it seems like any of the trio could win, not all of them should win. Adore may not have the polish, but she has the drive and the star power to take the drag world by storm. Bianca is quite possibly the smartest, funniest, and sweetest queen who has consistently brought it down the Drag Race runway. And Courtney... well, she has looks and a voice that kill. But when it comes to having the charisma, uniqueness, nerve, and talent that's going to make me want to keep tabs on what Ms. Act is up to long after Drag Race is over, she just doesn't have it.
From the second she sashayed through the workroom for the first time, I knew Courtney would be a standout contestant. She was so well put together. We soon learned that she was a semi-finalist on Australian Idol, so it was clear that she had talents beyond her appearance. And she dominated the first photo shoot with her sultry yet playful poses.
Courtney went on to do extremely well in the competition, wowing us with her voice during the Rusical challenge, serving up some animal realness in her majestic bird runway look, and holding her own in a chat with Chaz Bono and his grandmother Georgia Holt. But even with all of that going on, she didn't give us anything we didn't expect from her that moment she first appeared on screen.
With Adore, you never know if she'll look hot or like a hot mess on the runway, and Bianca is always so quick-witted, we don't think we've ever heard her say the same joke twice. But Courtney is perfectly pretty all the time, and that gets kind of boring after the dozen or so Farrah Fawcett wigs. And can we please talk about her personality?
There's no doubt that America's Next Drag Superstar would be a diva, but she needs to be likable, and Courtney is not. She gives off this air of sweetness and light, but anyone who feels the need to throw shade at Joslyn Fox, one of the kindest queens this season, comes off as just cruel. Perhaps it was for TV, perhaps she wanted to genuinely give Joslyn some tough love to help her improve, but calling her the "low-rent version of Courtney Act" is not the way to do it. Adore and Bianca have both had their moments of compassion this season. Where was Courtney's?
Coming into the competition with so much experience was both a blessing and a curse for Courtney. It obviously allowed her to hit the ground running and easily surpass a lot of the less polished queens. But it also set the bar extremely high from the start, and Courtney hasn't necessarily been able to top herself this season. While Adore gradually incorporated all of the judges' critiques to her look and Bianca slowly dropped the tough exterior to reveal a big softie on the inside, Courtney hasn't really grown as a queen. She barely addressed the judges' biggest critique of her, that she doesn't possess the vulnerability and the accessibility to make her America's Next Drag Superstar. Winning the title is certainly not going to help with that.
Clearly, Courtney has carved out a successful career as a performer, and she has a strong fan base. But she doesn't have anything that sets her a part from her competitors. Bianca is also a seasoned and refined queen, and Adore has a beautiful singing voice to rival Courtney's. The thing that we're going to remember Courtney for is not only that she's the queen everyone kept saying was "resting on pretty" but also that they were right.
Images: Logo; Tumblr/DJ Cronut (2)