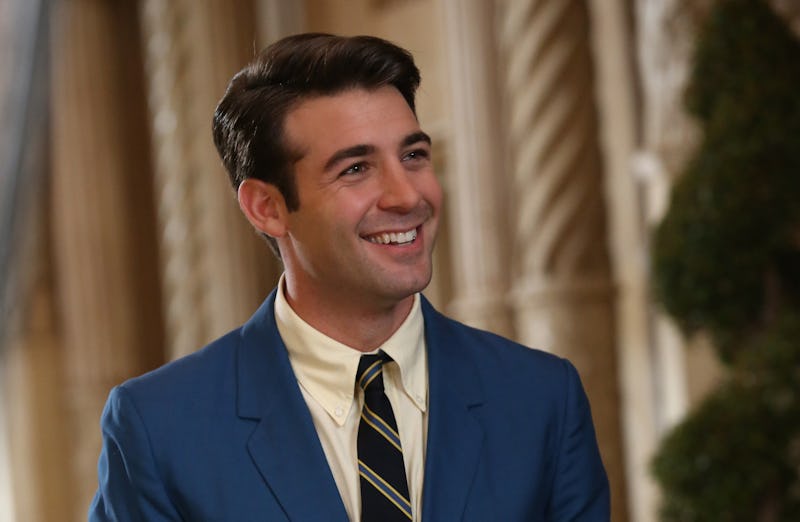 Oh, hey, there's Bob Benson! Finally! After weeks of wondering what in the world happened to the mystery man, Mad Men's Bob Benson made his long-awaited return during Sunday night's episode "The Strategy." And his return was, well, interesting. That is to say he found out the agency is losing Chevy(!), he proposed to Joan and got turned down(!!), and he didn't deny a big part of his sexual identity (!!!). But we're getting ahead of ourselves, let's rewind and retrace the reappearance of Bob Benson.
Bob (played by James Wolk, who is always a delight to get reacquainted with, even if his character isn't) showed up at the office with Chevy clients in tow, including a VP named Bill (played by The Wedding Singer's villain Matthew Glave). After making eyes at Joan and telling her that he wants to see her (and Kevin), Bob later gets a phone call in the middle of the night... but it's not from Joanie.
Instead, it's Bill needing to bailed out of prison for attempting to perform oral sex on an undercover police officer. Not great eh, Bob? Actually, despite the incident Bill tells Bob that Chevy will be moving on from the agency, but GM won't. In fact, the car company has been so impressed with Bob that Bill tells him he's going to get a job offer from Buick. "Well, that's very good news," an otherwise upset-looking Bob replies. Of course, it wouldn't be a true Bob Benson moment if it wasn't shrouded in more possible clues about his true identity, namely his sexuality. Cue: Bill asking Bob how he dealt with the temptations of New York City and Bob answering, "It was hard." Well, well.
If Bob was trying to keep that particular secret from Joan, it wasn't working. He showed up at her place to woo the entire clan, including flowers for her mother and an erector set for Kevin. (And say what you will about Bob Benson, but a day that "starts with pancakes and ends with an ice cream sundae" sounds kind of incredible. Damn you, Bob!)
Even so, when he proposed to Joan later that evening, she looked startled and confused. In fact, her immediate reaction was "You shouldn't be with a woman." Bob weakly responded with "I have been, you know." Well, that settles that: A definitive answer about Bob. When Joan asked why Bob was "doing this now" he spilled the beans over the Chevy loss and suggested that they could run off to Detroit and start a family. A sham family, but a family. You see, Bob's big pitch to powerful, beautiful, independent Joan was that she is pushing 40 and a single mother, and he could buy her a mansion in Detroit and they could "comfort each other through an uncertain world." Oh, how romantic! You think Joan accepted that offensive proposal? Of course not. But our awesome, takes-no-shit Joan didn't just give him a simple "No." Instead she dropped this stellar response on him: "I'd rather die hoping [I find real love] than make some arrangement. And you should, too." All hail Joan. Down with Bob.
Joan later told the Chevy news to Roger, so this might not be the last we see of Bob Benson again. Not if Roger has something to say about it.
Image: AMC