New 'True Blood' Trailer Is Missing Fan Favorite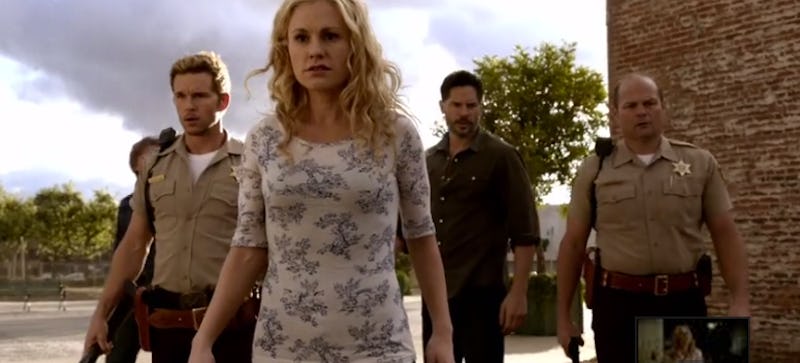 HBO, we might have a problem here. There's only one reason why I would tune into the final season of True Blood, and his name is Eric Northman. Unfortunately, that's exactly who is missing from the latest trailer for True Blood 's seventh and final season. But before any of you start writing angry fan letters to HBO, don't worry — Alexander Skarsgard will indeed return for True Blood 's final season for one last go as Eric Northman, so his absence just leaves us to speculate as to why he is missing from the latest trailer — especially considering the dire situation the show left him in in the Season 6 finale.
Last season, we saw Eric enjoying a (totally naked!) sunbathe on top of a snowy mountaintop... only to be burned up by the sun moments later. Obviously being burned alive doesn't bode too well for most TV characters, but considering that Eric is a vampire (not to mention a fan favorite) there's no way that he really bit the bullet. Yet, he's still missing from the trailer — save for a seconds-long flashback from his long-haired days — but perhaps a missing Eric is crucial for the storyline of next season.
In this trailer, we see that things are looking grim in Bon Temps. Sick vamps have attacked the town, and it appears that the town is dwindling in numbers because of it. According to Sookie's voiceover, the townsfolk now blame her for the supernatural disaster that has befallen the Louisiana village. (Finally, we found some people who don't worship Sookie!) Even the government doesn't care about Bon Temps, leaving the town without any aid for their current vampire problem. It's clearly a very tense situation, which is making us wonder just where, oh where, could our Eric be? He may not always make the best decisions, but at least he knows how to get things done.
Perhaps the reason why Eric is missing from the trailer is because the rest of the characters will need to go and find him in order to help the situation in Bon Temps. There's a good chance that Eric somehow holds the key to restoring order to the town, and his arrival could indicate a shift for the show. Could Eric show up at the end of the first episode of the season to save the day, hence the reason why he's missing from the trailer?
Then there's the more obvious reason why Eric could be missing. Let's face it: He's easily the best part of this entire show, and people may tune in just to make sure that the show didn't make a huge mistake and write him off. We may have to wait to get more Eric in our lives, but as long as he really is eventually coming back, Season 7 might be worth watching.
Tune into HBO for the final season of True Blood on June 22.
Image: HBO