5SOS's New Video Is Pretty Super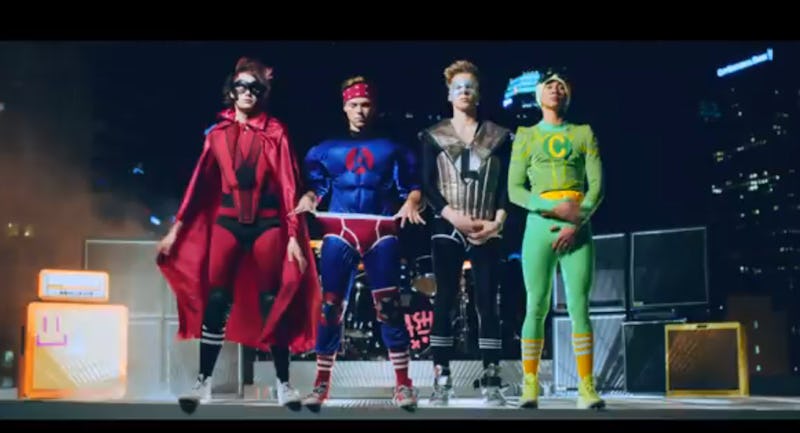 Here I was, feeling really accomplished because I cleaned out my e-mail inbox Sunday night and took out the recycling Monday morning. 5 Seconds of Summer has put me in my place. The Australian band performed "She Looks So Perfect" at the Billboard Music Awards Sunday night, and Monday, the band dropped a brand new music video. DANG! In the video for 5SOS's "Don't Stop," the guys play superheroes. (Hey now! Just like the awesome lyric video!) I mean, their band name is 5 Seconds of Summer. A superhero motif is pretty dang summery.
In the vid, 5SOS members Luke Hemmings, Calum Hood, Ashton Irwin, and Michael Clifford don superhero costumes and do good: Graffiti is stopped, a cat is saved, an elderly woman is helped across the street, and trash is picked up. Oh, and they thwart a group of bad guys in a warehouse. It's like a G-rated, cuter version of Kick Ass.
Important decision: Which 5SOS superhero costume is the best? They're all outstanding, but I've gotta say that I dig Calum's 'stume the most. The green with yellow detailing is nice, I could get a lot of use out of that utility belt (I refuse to leave house without a tube of Aquaphor), and I might be able to put prescription lenses in the goggles. BOOM. I'm also obsessed with those florescent sneakers. Yeah, Calum's costume rules.
But hey, your favorite costume might be Luke's. Or Ashton's. Or Michael's. Only one way to find out: Watch the video!
Image: 5SOSVEVO/YouTube