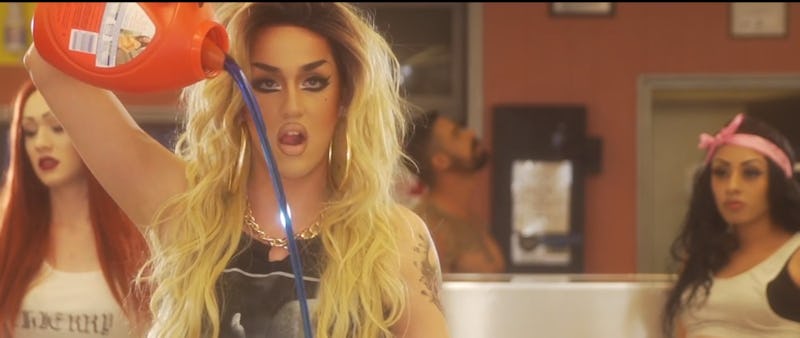 WARNING: Spoilers ahead. Welp, Adore Delano did not snatch the crown Monday night. BUT! That doesn't mean we've heard the last of her. RuPaul's Drag Race finalist Adore Delano dropped a new music video Monday night, and it so perfectly Adore. Translation: It's fun, filthy, and FIERCE. "DTF" (yeah, it stands for what you think it stands for) is NSFW but it is SFP (safe for party). Adore describes "DTF" as "grimy, pop, hood shit." Uh, sign me up immediately. The song doesn't showcase Adore's crazy-good voice (the former American Idol contestant can SING), but that's a-okay. It serves some serious trap beat nastiness that'll make you want to move your body.
No T, no shade, but as happy as I am that Bianca Del Rio won RPDR (she's perfect, duh), I am a tad bummed Adore wasn't named America's Next Drag Superstar. I love, love, love Adore. She may not be polished like Bianca and Courtney Act, but her drag style WORKS for me. She's funny, talented, scrappy, gorgeous, and likable. I'm an Adore Adorer. (Side note: Adore should've won Miss Congeniality.) Also, part deux? It doesn't hurt that she's been dubbed (ha) the Lumpy Space Princess of RPDR. ADORE ADORER 4 LIFE.
Okay. Back to the "DTF" video. You bet Adore looks sickening. Every look in every scene is A+, and the director KNOWS it. The video hits us Adorers with many beautiful slow-mo moments.
This death stare took five years off of my life:
I mean:
Nothing compares 2 U:
I MEAN!!!!!:
Too sickening for words:
She flawlessly executes what I like to call "The 'Single Ladies' Hip 'n' Thigh Grind":
Who needs spicy mustard when you can have sexy mustard?
Prepare yourself for the hottest detergent cap toss you'll ever see:
And the hottest detergent pour you'll ever see:
AWOOGA:
One more time, for good measure:
I love Adore and I love "DTF."
Can't stop listening/singing/dancing to this song. Not mad about it. To quote Adore:
Check out "DTF" in all of its NSFW majesty here:
"DTF" is available on iTunes and it will appear on Adore's upcoming album Till Death Do Us Party.
Images: DannyNoriega/YouTube; DJCronut/tumblr