14 Best Graduation Mortarboard Designs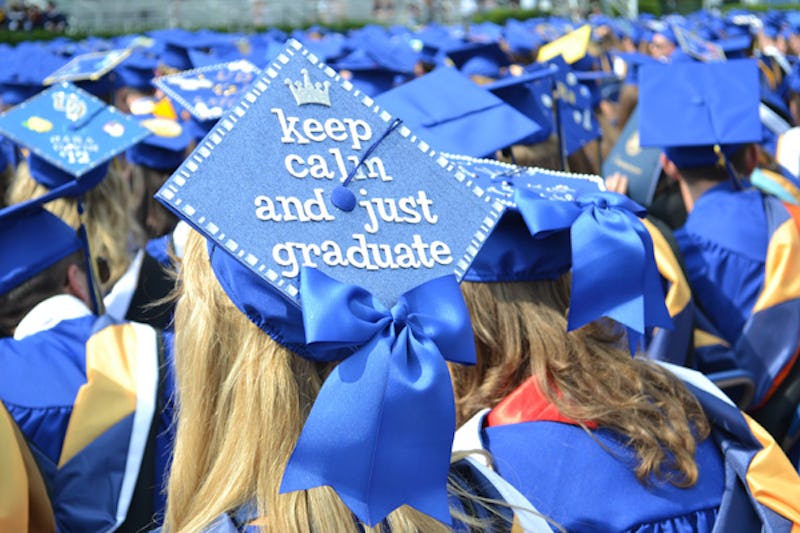 Graduation season has passed for college grads and is almost here for high school kids, which means that bizarre, barely-used words such as "tassel," "baccalaureate," and my new personal favorite, "mortarboard," are once again worming their way back into our vernacular. Though that last term sounds like it could very well be an extreme sport or a form of medieval torture, mortarboards are actually quite harmless…fashion faux pas excluded. The flat, square caps worn by academic graduates on the day of their commencement are reminiscent of the 19th-century boards used by masons to carry mortar — hence the term "mortarboard." You're welcome for the history lesson!
The "cap" aspect of the "cap and gown" garb worn on graduation day has become an integral part of the entire commencement experience — along with the practice of spending hours and hours adorning the caps with personal, artistic, and pop culture-inspired designs. Here are 15 of the most creative — and in some cases, truly scrumptious — bedazzled mortarboards:
1. Short and Sweet
This graduate of LA's Fashion Institute of Design and Merchandising (FIDM) tells it like it is.
2. '90s Nostalgia: Tetris Edition
We'd expect no less than geometric perfection from an Arizona State University School of Engineering student.
3. Sugar, Spice, and Everything Nice
Imagine sitting behind this FIDM student during an entire commencement ceremony, your stomach growling in protest of these unfairly realistic cupcake and ice cream designs. A foodie's definition of hell.
4. Benevolent Candyman
Now that's more like it. This guy was definitely the most popular graduate on campus at California State University of San Marcos.
5. Jackson Pollock's At It Too
Who doesn't love splatter paint?
6. Terminating University
Brandy Stillwell of the University of Dakota-Lincoln channels her inner Schwarzenegger.
7. Doctor (Seuss)'s Orders
Dr. Seuss's infectiously giddy Oh, The Places You'll Go! tale offers the perfect dose of whimsical inspiration for grads of all walks of life.
8. Greetings, Earthling
LLAP: This "vulcan salute," introduced by Leonard Nimoy's Spock in Star Trek, is dutifully intoned by Trekkies everywhere.
9. Message from the Marauders
Used in the Potterverse to magically wipe clean a coded map of Hogwarts, "Mischief Managed" is utilized by us mere Muggles as an authoritative alternative to "PEACE OUT."
10. The Bluth Truth
Filed under: Life lessons learned from Arrested Development.
11. Up, Up, and Away
Otherwise known as: That time Pixar created the best love story of all time in under five minutes.
12. Reach for the Stars
Buzz Lightyear's iconic phrase from Toy Story took on cultural significance beyond even the scope of the overly enthusiastic space cadet's wildest imagination.
13. Peter Pan Plays Along
Ironically, although Peter Pan is mainly about the inability to grow up, this message from Pan himself offers a nice tidbit of quirky advice to grads looking to make their way in the world.
14. Imagine Dragons Says It's Time
...isn't it?
Images: Header by Josh Shannon; FIDM - 1, 3, 6, 15; 2, 4, 5, 7, 8, Will Parson, 10, 11, 12, 13, 14