Jerry Seinfeld Is at It Again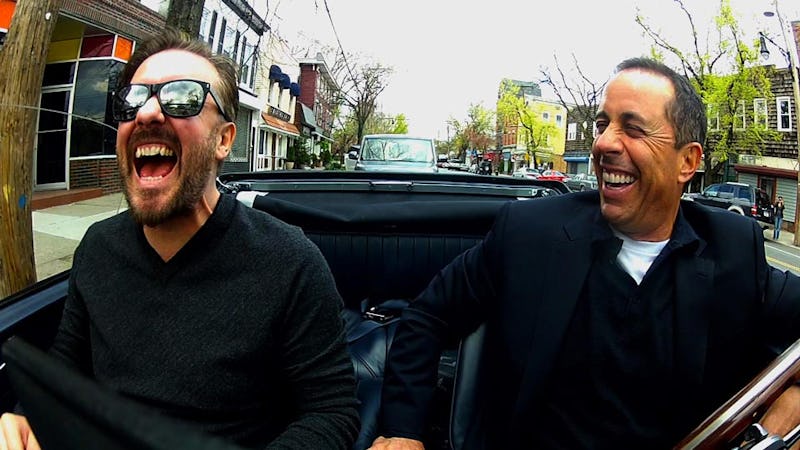 Leave it to Jerry Seinfeld to make driving around in a car hysterically entertaining. The comedian's webseries, Comedians in Cars Getting Coffee , released its first trailer for Season 4 of the show, and it gets funny real fast. The 30-second clip shows Seinfeld visiting a prison with Robert Klein and then George Wallace shouting in a diner while Seinfeld buries his head in his hands. We didn't think he'd embarrass so easily!
The show, which got picked up for 24 new episodes — that's four more seasons in addition to the already confirmed Season 5 — follows the adventures of Seinfeld and one special comedian friend as they talk about nothing in particular (sound familiar?) while driving to some coffee-selling location. This upcoming season we can expect to see Aziz Ansari, Jon Stewart, and Sarah Jessica Parker, as well as Klein and Wallace chat it up with the funnyman.
Season 4 of the show will only have five episodes — past seasons have had anywhere from six to 10 guests — but that's not going to stop us from making a list of people we hope we'll get to see in future episodes. Could you imagine the awkward conversations Seinfeld would have with Nick Offerman, Aubrey Plaza, or even the spectacularly loud Billy Eichner? And based on the fact that Sarah Jessica Parker is being considered a comedian (okay then), it looks like pretty much anyone who's ever made a joke can get in the car, so it wouldn't be crazy to see Jennifer Lawrence or Anna Kendrick on the lineup.
Season 4 of Comedians in Cars Getting Coffee airs on Sony Pictures Television's Crackle on June 19. You can take a look at the trailer below:
Images: Sony Pictures Television