Festive Nail Art For The Long Weekend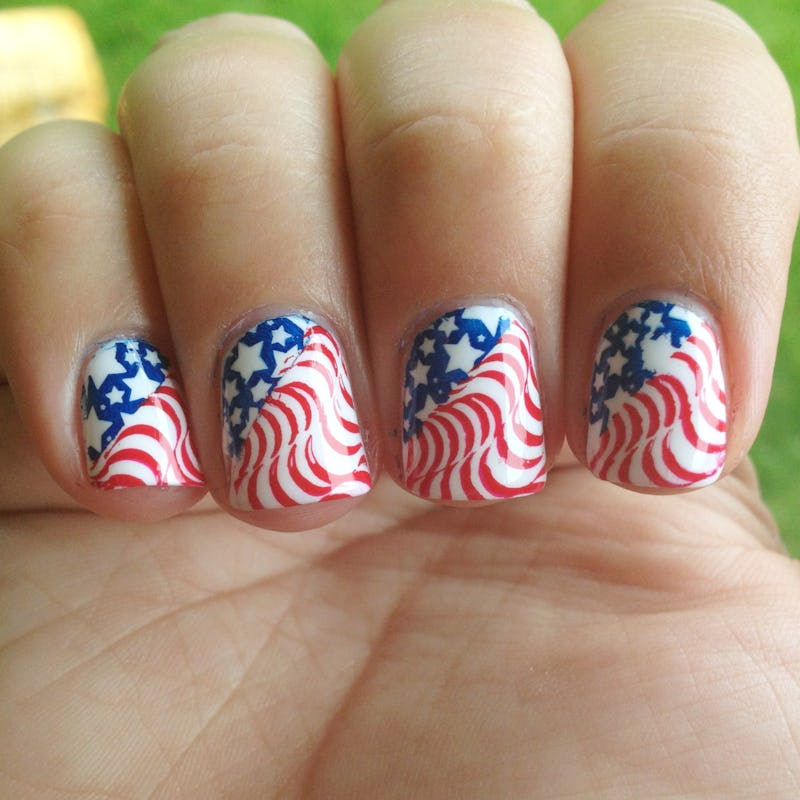 It's the first long weekend of summer! Instead of spending the extra day off shivering in my less-than-optimally heated apartment, I can actually go outside and play at the park, beach, or on some more fortunate friend's finished rooftop. Bring on the delicious BBQ food.
A three day weekend means a whole extra 24 hours of free time, some of which should obviously be devoted to giving your mani a little extra loving. After all, Memorial Day is a holiday, and themed nail art is pretty much the best thing ever. Since you don't have to give up Sunday night friend-time in favor of getting to bed early for Monday work, why not spend Friday night trying out some manis that will make you the most festive one at the Ultimate Frisbee game this weekend?
I've rounded up some awesome — and actually not incredibly hard, as long as you have some sort of nail art tool handy — manicure looks from around the wise world of the Internet. I dare you to take a shot at one before you hit your pool party. There's plenty of red, white, and blue — since this was originally a patriotic holiday weekend, I'm told — but I've stuck a few summer food-themed looks in too, because who wouldn't want burgers on their nails? Go crazy.
Simple Flags
Image: Pinterest/Erin Cantrell
Do you know what's crazy hard? Drawing tiny little stars all over your nails. This dots-n-stripes mani is just as reminiscent of Old Glory, but with out all the painstaking detail.
The Blue Ombre
Image: All Lacquered Up
I loooove a good ombre nail in the summertime. Michelle of All Lacquered Up opted for shades of blue, but this works just as well with red, yellow, or any other festive shades you have handy.
Burger Nails
Image: NailNerd.com
Anytime food and beauty come together, it's an amazing thing. This delicious burger mani is easier than it looks — The Nail Nerd just drew different colored lines with nail art pens.
The Mini Heart
Image: Pinterest/Jamie Frey
Memorial Day weekend marks the start of the three month period where we can safely wear white without feeling any style shame, so take full advantage by putting the bright neutral on your nails as well. For subtly patriotic flair, add a red and blue heart to one of your tips.
Camo Pt 1
Image: gorjessnails.tumblr.com
Show your support for friends and family in the armed forces with these camo nails. Use different shades of green and brown to create the splotches, then add a matte top coat.
Camo Pt 2
Image: Rins Nail Files
For a more abstract version of camoflague print, layer red and blue splotches on a white base. Rin used a stamp to get this design, but it'd be pretty easy to create a similar look with a thin brush or nail art pen.
Picnic Nails
Image: abnormnailbehavior.blogspot.com
Ants in your sandwich? Gross. Ants on your nails? Adorable. If the checkered squares are stressing you out, try simpler stripes for basically the same effect.
Main Image: Polish Me Please