Zadie Smith's Commencement Speech Was Awesome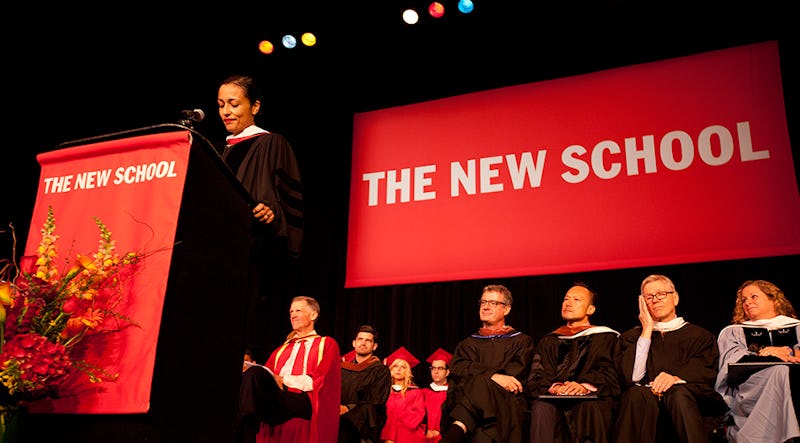 With all of the colorful caps and gowns dotting the streets and that overwhelming sense of freedom in the air, graduation season has officially taken over. And that means the icons — from entrepreneurial geniuses like Tory Burch to witty comedy stars like Charlie Day — have surfaced to dole out their congratulations, practical advice, and tidbits of wisdom. It's that last chance to inspire graduates before they head out into the cold, cruel world equipped with everything — or, um, nothing — they've learned over the last four years
On Friday, acclaimed novelist Zadie Smith delivered an impressive commencement speech for a audience of New School graduates. Through a self-deprecating reflection of her own college years, Smith encouraged students to learn from her own generation's mistakes, avoid the disease of excessive self-love, embrace their humanity, and ignore those who tell them they should always embrace the individual over the collective. From her rather literary speech, we learned quite a bit about Smith herself, about the significance of graduation, and about being human.
"'Just be you!' screams the label on your shampoo bottle. 'Just be you!' cries your deodorant. 'Because you're worth it.' You get about 50 commencement speeches a day, and that's before you've even left that bathroom," Smith noted in her speech. "I didn't think you'd want anymore of that from me." She promised something a bit different than the typical, aggrandizing commencement speech filled with back pats and whimsical inspiration, and she delivered.
Here are 15 sage takeaways from Ms. Smith:
1. WHEN YOU GRADUATE, YOU NOT ONLY EARN A DIPLOMA, BUT A NEW FAMILY
"Thinking back to my own graduation in England in 1997 ... Like you I was finally done with my degree and I had made of myself a graduate. And like you, I now had two families: the old boring one that had raised me and an exciting new one consisting of a bunch of freaks I had met in college. But part of the delightful excitement on graduation day was trying to find a way to blend these two tribes with their differing haircuts and political views and hygeine standards and tastes in music."
2. GRADUATING MAKES YOU FEEL ANCIENT
"I felt like a character in two different movies. And so old. I really believed I was ancient. And possibly distant in experience from the freshman only three years below. I was as likely to befriend a squirrel as a freshman, which strange relationship with time is perhaps unique to graduates and toddlers ... When I was 21 the gap between me and an 18-year-old felt insurmountable. Just like my 4-year-old daughter would rather eat sand than have a play date with a 1-year-old."
3. AS A COLLEGE GRADUATE, YOU'RE NOT ONLY PROFICIENT IN YOUR CHOSEN MAJOR, BUT ALSO AN EXPERT IN THE FIELD OF 'LOVE DRAMA'
"Oh the love dramas, so many love dramas. Mine and other peoples. They take up such a significant amount of college life it seems unfair to not have them properly reflected in the transcript. Any full account of my university years should really include the fact that I majored in English literature with a minor in drunken discussions about the difference between loving someone and being in love with that person."
4. GRADUATION IS A TIME TO REFLECT ON WHAT YOUR GENERATION OF COLLEGE STUDENTS HAS ADDED TO THE WORLD
"You can thank my generation for the invention of the word supermodel and the popularization of celebrity and lifestyle often used in conjunction with each other. Reality TV, that was us. Also televised talent shows. Also Ugg boots — you're welcome, Millennials."
5. IF YOU STUDIED ABROAD, I HOPE YOU BROUGHT BACK A PAIR OF SOUVENIER TROUSERS
"In the '90s we even had a thing called 'Year of Trousers,' which signified any kind of ethnic or exotic pants one brought back home from a distant, ideally third world country. These trousers were meant to alert to a passing stranger the fact that we'd been somewhere fasicnating and thus added further color to our unique personalities. Personally, I couldn't afford a year off, but I was very compelled by those trousers."
6. BEWARE, COLLEGE CAN SOMETIMES ENCOURAGE SELF-ABSORPTION. DON'T LET IT HAPPEN TO YOU
"For the most part we were uninterested in what we considered to be unglamorous pursuits. We valued individuality above all things."
7. EVEN WHEN YOU'RE NO LONGER A POOR COLLEGE STUDENT, KEEP USING PUBLIC TRANSPORTATION
"Some of the best conversations you'll ever hear will be on public transport. If it weren't for the New York and London subway systems my novels would be books of blank pages."
8. COLLEGE PROMOTES THE IMPORTANCE OF INDIVIDUALITY, BUT SOMETIMES THERE'S MORE TO LIFE THAN BEING HIPSTERS
"When the fussier among us detected in these visions of prestigious individuality something a little crass and commercialized, our solution was to go, in some ways, further down the same road, to out individuate the celebrated individuals. We became hipsters, defined by the ways we weren't like everybody else. One amusing much commented upon consequence of this is that we all ended up individuals of the same type. Not one of kind, but one of a kind."
9. SURE, CHAMPION INDIVIDUALITY, BUT DON'T FEAR THE COLLECTIVE
"It feels good to give your unique and prestigious selves a slip every now and then and confess your membership in this unwieldy collective called the human race."
10. SOME OF LIFE'S GREATEST LESSONS CAN COME FROM A SLICE OF CAKE
"Here is a perhaps silly example. It happened to me recently at my mother's birthday. Around midnight it came time to divide out the rum cake ... for it was the duty of the daughter to hand out cake ... And it was while doing what I hadn't realized was my duty that I felt what might be described as the exact opposite of the sensation I have standing in front of you now. Not puffed up with individual prestige, but immersed in the beauty of the crowd. Connected if only in gesture to an ancient line of practical women working in companionable silence in the service of their community. It's such a ludicrously tiny example of the collective action and yet clearly still so rare in my own life that even this minor instance of it struck me."
11. EXCLUSIVE DOESN'T ALWAYS MEAN BETTER
"Walk down these crowded streets with a smile on your face. Be thankful you get to walk so close to other humans. It's a privilege. Don't let your fellow humans be alien to you, and as you get older and perhaps a little less open than you are now, don't assume that exclusive always and everywhere means better. It may only mean lonelier. There will always be folks hard selling you the life of the few: the private schools, private plans, private islands, private life. They are trying to convince you that hell is other people. Don't believe it. We are far more frequently each other's shelter and correction, the antidote to solipsism, and so many windows on this world."
12. GRADUATING MAKES YOU FEEL LIKE ONE OF THE FEW, BUT SOMETIMES IT'S JUST AS GOOD OR BETTER TO CONSIDER YOURSELF ONE OF THE MANY, AND THIS GENERATION SEEMS TO BE RECOGNIZING THAT
"I want to speak in favor of recognizing our place within the many. Not only as a slogan, much less as a personal sacrifice, but rather as a potential source of joy in your life."
13. GET YOUR HEAD IN THE NOW, 'CAUSE IT MATTERS
"I get the sense that something different is going on in your generation ... Something hopeful. You seem to be smarter sooner. Part of these smarts is surely born out of crises. In the '90s we had high employment and a buoyant economy. We could afford to spend weeks worrying about the exact length and shape of our beards or whether Kurt Cobain was a sellout. Your situation is more acute. You have so many large, collective tasks ahead, and you know that. We had them too, but paid little attention, so now I'm afraid it falls to you. The climate, the economy, the sick relationship between the individual prestige of the first world and the anonymity of the third —these are things only many hands can fix working together. You are all individuals but you are also part of a generation and generations are defined by the projects they take on together."
14. COLLEGE TEACHES YOU TO BE INDEPENDENT, BUT ALWAYS REMEMBER YOU STILL NEED EACH OTHER
"We isolated ourselves. It took us the longest time to work out that we needed each other. You may have noticed that even now we seem somewhat stunned by quite ordinary human pursuits, like having children or living in a neighborhood or getting ill. We are always writing lifestyle articles about such matters in the Sunday papers. That's because, until very recently, we thought we were going to get through this whole life thing purely on our own steam. Even if we were no fans of the ex-British Prime Minister Margaret Thatcher, we had unwittingly taken her most famous slogan and embedded it deep within our own lives. 'There is no such thing as society,' she said. We were unique individuals. What did we need with society? But then it turned out that the things that have happened to everybody since the dawn of time also happened to us; Our parents got old and ill; our children needed schools and somewhere to play; we wanted trains that ran on time. We needed each other. It turned out we were just human like everybody else."
15. A DESIRE FOR HUMAN CONNECTION IS ONE OF THIS GENERATION OF GRADUATES' GREATEST ASSETS
"But I'm preaching to the converted ... Aren't you always connecting to each other? Forever communicating, rarely scared of strangers, wildly open, ready to tell anyone everything? Doesn't online anonymity tear at the very idea of a prestige individual? Aren't young artists collapsing the border between themselves and their audience? Aren't young coders determined on an all access world in which everybody is an equal participant? Are the young activists content just to raise the money and run? No. They want to be local, grassroots, involved. Those are all good instincts. I'm so excited to think of you pursuing them. Hold on to that desire for human connection. Don't let anyone scare you out of it."
Image: thenewschool/facebook