'The Bachelorette' Has Her Own "Ees Okay" Phrase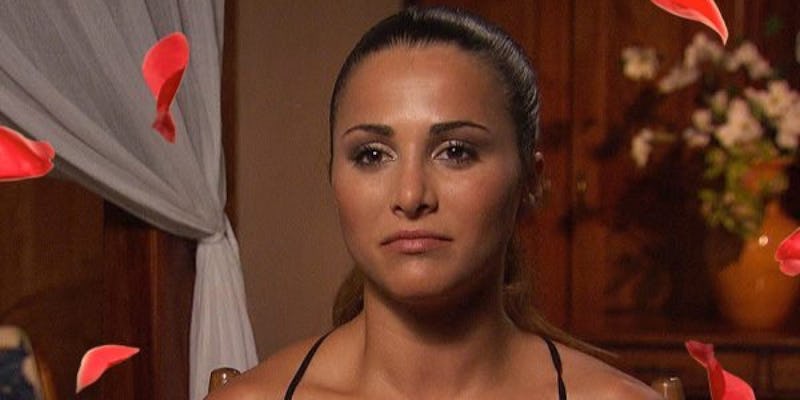 The Bachelorette Andi Dorfman brought attention to former Bachelor Juan Pablo's very annoying habit of saying "ees okay" to basically everything, but it turns out that Andi, who once told Juan Pablo "I want to die if I have to hear 'it's okay' again," has a pretty annoying tick of her own. No, it's not her charmingly southern "y'all" or even her night-one habit of saying "I'm a hugger" and "I'll see you inside." Rather, Andi Dorfman is guilty of drawling the word "stop" so it sounds more like "stahhpp." I think she's using it as a way to show her incredulousness during her various dates, but for a viewer watching her say it sentence after sentence, it's in danger of coming off kind of feigned.
If you think I'm being too harsh on our new Bachelorette, here's a summary of every time she said it during Monday night's episode alone. Spoiler alert: she says it six times, so we'll probably want to turn it into a drinking game for the next episode.
"STOP" #1 — IN THE CAR WITH ERIC
Okay, so Eric's exploits are pretty neat, and she was driving so maybe she didn't want to get too deep into a conversation and get distracted on the road. We'll give her that one.
"STOP" #2 — ERIC HAS THE TRAVEL BUG
Last I checked, hitchhiking around the U.S. for someone in the 1960s/70s wasn't all that out of the ordinary? But perhaps Andi has never heard of anyone doing that. I'll give her this one too?
"STOP" #3 — ERIC'S BROTHER HAS CHILDREN
Hmm... Andi I'm starting to feel like you're throwing these "stops" out randomly and that they have no correlation to the impressiveness of the information being shared.
"STOP" #4 — ERIC HAS ROASTED MARSHMALLOWS OVER A VOLCANO
Okay, that is pretty freaking cool. Maybe's Andi's back on track?
"STOP" #5 — HER HORSE WON AT THE TRACK
Yeah, sure, her horse won, but this is "stop" number five and we're only a couple of dates in. This is going to be a long season.
"STOP" #6 — CHRIS IS FEELING NERVOUS
He thought he was going home but instead he got the date. Staahpp, that's too adorable. Staahhpp saying staahhp, Andi.
Will she continue this habit throughout the show? Probably. But since there is literally nothing she can do about it at this point (it's already all been taped), let's just enjoy this mental image:
And because I can, here's a supercut of all six times she said "stop." Enjoy!
Image: ABC