10 Maya Angelou Quotes We'll Never Forget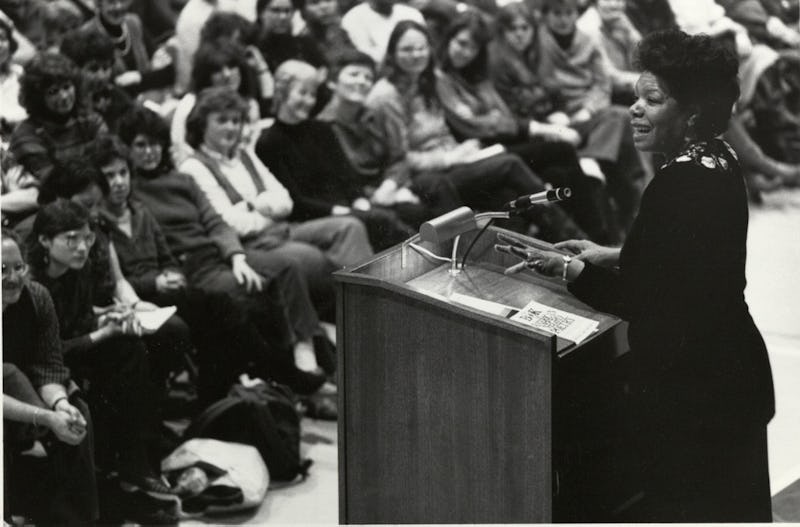 Sad news today: Author, poet, and all-round powerhouse Maya Angelou has died at the age of 86. Better writers than me will no doubt be taking to the Internet to extol her importance to feminism, the literary world, the black experience in America, and more in the coming days, so here, I'm going to let her speak for herself. In her own words, here are just a few lessons we've learned from her in the past — and lessons which we would all do well to carry forward in the future.
1. On Learning from Our Mistakes:
2. On Forgiveness:
"It's one of the greatest gifts you can give yourself, to forgive. Forgive everybody."
3. On Self-Confidence:
"Pretty women wonder where my secret lies. I'm not cute or built to suit a fashion model's size But when I start to tell them, They think I'm telling lies. I say, It's in the reach of my arms The span of my hips, The stride of my step, The curl of my lips. I'm a woman Phenomenally. Phenomenal woman,That's me."
- "Phenomenal Woman"
Angelou at the Carolina Theater, Greensboro, NC in 2008.
4. On Owning It:
"Does my sexiness upset you? Does it come as a surprise That I dance like I've got diamondsAt the meeting of my thighs?"
- "Still I Rise"
5. On Love:
"We are weaned from our timidity In the flush of love's light we dare be brave And suddenly we see that love costs all we are and will ever be. Yet it is only love which sets us free.A Brave and Startling Truth."
- "A Brave and Startling Truth"
And we're not just talking about romantic love, either — it's love of all things and people. Sounds cliché, but it's true. Here's why:
Angelou at the Clinton inauguration in 1993.
6. On Agency:
Angelou talked a lot about agency and taking responsibility for your actions. This quote is probably my favorite of them. We can't always control what's going on in our lives, but we can control how we react to them.
7. On Living Life to Its Fullest:
8. On Being a Part of Something Bigger Than Ourselves:
"You are the sum total of everything you've ever seen, heard, eaten, smelled, been told, forgot - it's all there. Everything influences each of us, and because of that I try to make sure that my experiences are positive."
Related:
"I believe that each of us comes from the creator trailing wisps of glory."
Regardless as to whether you believe in a higher power or not, this is a comforting thought.
9. On Doing the Right Thing:
"You don't have to think about doing the right thing. If you're for the right thing, then you do it without thinking."
Angelou was quoting her mother here in I Know Why the Caged Bird Sings; it's definitely a lesson worth taking to heart.
10. On Enacting Change:
Images: York College ISLGP/Flickr, Wiki Commons, Wiki Commons