Maya Angelou Dead at 86: The Life of the Renowned Poet and Author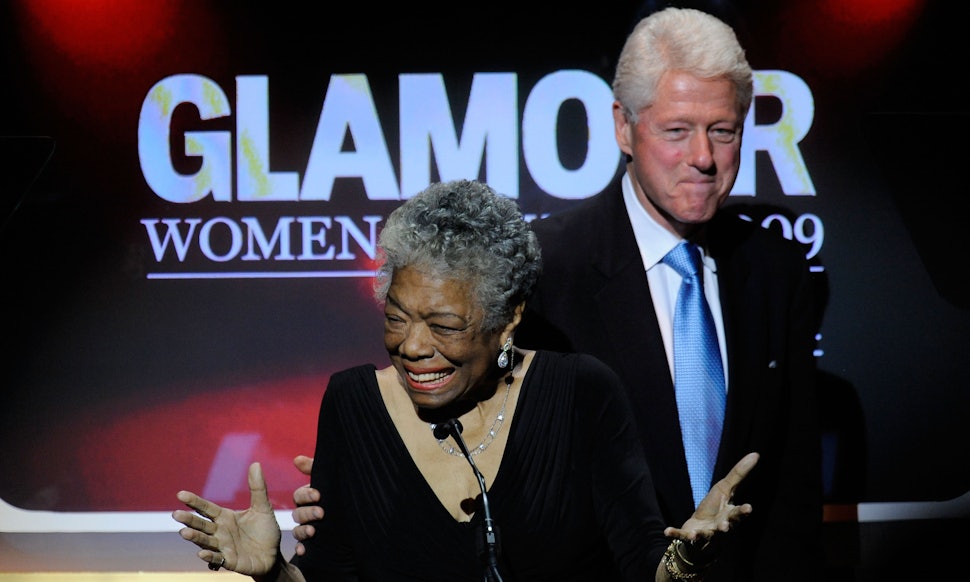 Larry Busacca/Getty Images Entertainment/Getty Images
The world literary and otherwise was plunged into mourning Wednesday with the announcement of Maya Angelou's death at the age of 86. Angelou had reportedly been battling health problems before her death. Beloved for her numerous autobiographies and her poetry, Angelou was also known for the moving reading she gave at Bill Clinton's 1993 Inauguration. Angelou also lent her words to President Obama's 2008 campaign.
Though we will remember Angelou for her lasting words, she also leaves behind her own legacy. She was a dancer, a civil rights activist, a dramatist, and a filmmaker who earned more than 30 honorary degrees. Angelou was set to receive the "Beacon Of Life Award" Friday at the 2014 MLB Beacon Award Luncheon.
Angelou is one of the most inspiring literary figures of her generation, particularly for Black Americans. We remember her incredible life and career through photos.
Maya Angelou
This stunning photograph of Maya Angelou was captured at Boston College. The renowned poet and author spoke to a capacity crowd at the university in 1984.
Image: Burns Library/Flickr
Maya Angelou
Maya Angelou reads to a packed crowd at the Robsham Theater at Boston College in 1984.
Image: Burns Library/Flickr
Maya Angelou at President Clinton's 1993 Inauguration
Maya Angelou reads "On the Pulse of Morning" at President Bill Clinton's 1993 Inauguration.
Maya Angelou Awarded 2010 Medal of Freedom
President Barack Obama kisses poet and author Maya Angelou after giving her the 2010 Medal of Freedom in the East Room of the White House February 15, 2011 in Washington, DC.
Maya Angelou and Michelle Obama
Michelle Obama and Maya Angelou speak during the BET Honors 2012 at the Warner Theatre on January 14, 2012 in Washington, DC.
Maya Angelou's Writing
Maya Angelou's writing is on display at The Schomburg Center for Research in Black Culture in New York City.
Maya Angelou in 2008
Maya Angelou speaks on behalf of President Obama's campaign at the Carolina Theater in Greensboro, North Carolina in September 2008.
Maya Angelou at Glamour's Women of the Year
Honoree/Dr. Maya Angelou speaks onstage at the The 2009 Women of the Year hosted by Glamour Magazine at Carnegie Hall on November 9, 2009 in New York City.
Maya Angelou's 82nd Birthday
Dr. Maya Angelou attends her 82nd birthday party with friends and family at her home on May 20, 2010 in Winston-Salem, North Carolina.
Maya Angelou in 2013
Maya Angelou attends the Norman Mailer Center's Fifth Annual Benefit Gala sponsored by Van Cleef & Arpels at the New York Public Library on October 17, 2013 in New York City.
Maya Angelou and Sigourney Weaver
Actress Sigourney Weaver and poet Maya Angelou attend the 2009 Straight for Equality awards at the Marriott Marquis on February 5, 2009 in New York City.
Maya Angelou