The Trailer Nearly Explodes With Star Power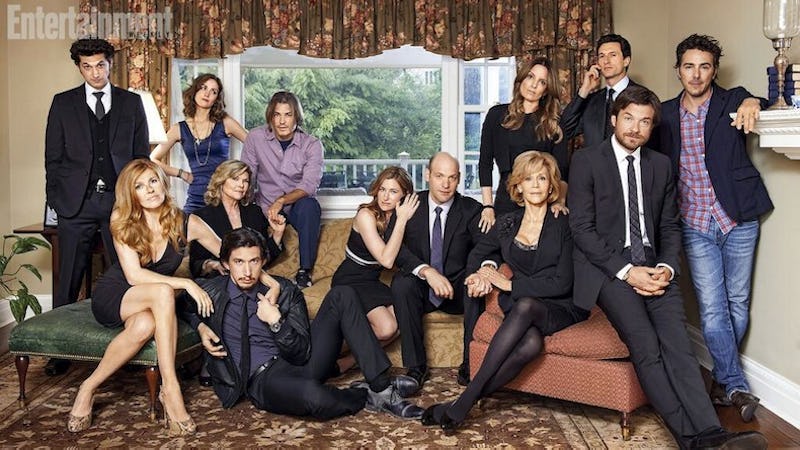 Feeling like you need a healthy dose of family dysfunction? Then you must watch the trailer for This Is Where I Leave You , a movie that will give you a look at the one of the most dysfunctional — but hilarious and heartwarming — families you've ever seen, watched, or listened. The movie has a tremendous cast that includes Jason Bateman (who has experience with dysfunctional families from Arrested Development), Tina Fey, Adam Driver, Connie Britton, Jane Fonda, and Rose Byrne, so you know it's going to be good.
Bateman stars as Judd Altman (which is a departure from the book, in which his last name was Foxman) who returns home when his father passes away. He's recently caught his wife cheating on him with a total alpha male, and this return to his often-sparring family only adds to the fire. His mother (Jane Fonda) is showing off her sexuality, his sister Wendy (Fey) is the biting source of truth, his other brother Paul (Corey Stoll) is desperately trying to conceive with his wife, and his younger brother Philip (Driver), is filled with erupting emotions, as he now has a much older girlfriend (Britton). And that's just where we start off.
But not only does the movie boast a roster of actors that's nearly drool-worthy, the casting is seriously on point. In fact, back when I read the book by Jonathan Tropper (which is a must-read, by the way), I could hear Fey and Driver in their respective roles. The dialogue sounds brilliantly cinematic.
Fellow fans of the book shouldn't be worried that the movie will not be as good as the novel: Tropper is also penning the script, so he should surely keep the book's spirit in tact.
Check it out below! The trailer practically explodes with star power.
Image: Entertainment Weekly