The Hairy History Of The New York City Ferret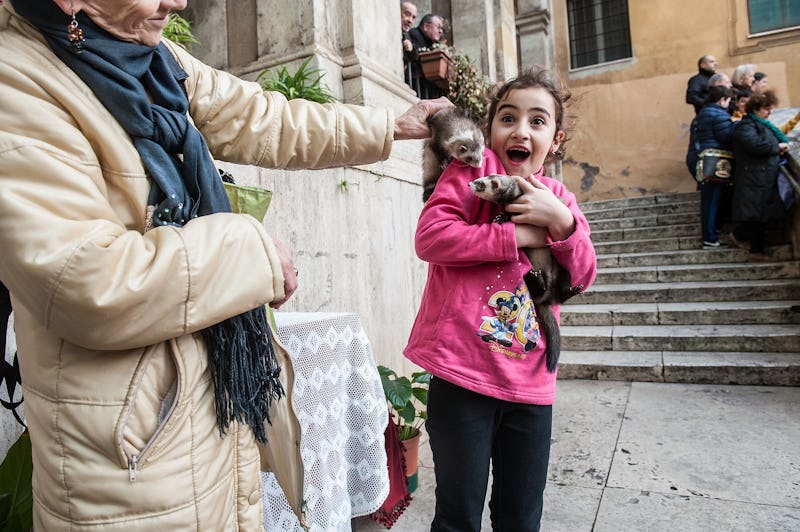 Giorgio Cosulich/Getty Images News/Getty Images
For such a tiny creature, the ferret has caused a huge amount of drama in New York City. Former mayor Rudy Giuliani enforced a ban on the weasel-y mammal in 1999, prohibiting NYC residents from owning them as domestic pets. But now, current mayor Bill de Blasio is looking to lift New York City's ferret ban and let the creatures run wild and loose in NYC studio apartments everywhere. Laugh all you want, but the ferret saga of NYC has had quite a hairy history.
It all started with Giuliani's 1999 ban — well, one could argue that it most likely started in Giuliani's childhood, when he clearly had some kind of traumatic experience with a ferret and perhaps a poorly pitched tent. The former mayor's searing hatred first became evident the same year, when he accused a ferret enthusiast of suffering from "a sickness" during a radio interview. Thanks for Giuliani, not only did the city's crime rate drop and the sleazy peep shows become obsolete, but NYC became a ghost town for the nefarious ferret.
Citizens could finally roam the streets freely without the fear that a rogue ferret from someone's brownstone could suddenly run out and bite their ankles. 15 years later, de Blasio comes sauntering in and almost effective-immediately tries to topple the ferret-free empire that Giuliani has painstakingly built. Who does he think he is? With his silly advocacy for animal rights and his grandiose push for universal pre-K...
But don't put all the blame on de Blasio. The repeal of Giuliani's ban was prompted by a ferret enthusiast in Sheepshead Bay named Ariel Jasper, who was inspired by de Blasio's vow to outlaw horse-drawn carriages over animal treatment concerns. From there, Giuliani's world started to crumble around him. Let's break down the timeline...
1999: Rudy Giuliani Tells a Ferret Fan "You Need Help"
In what is perhaps the most epic rant on the subject of ferrets in the history of the universe, mayor Giuliani really tears into an unsuspecting ferret-rights activist. Some choice lines include "There's something deranged about you" and "You should go consult a psychologist or a psychiatrist, and have him help you with this excessive concern, how you are devoting your life to weasels." Listen to the entire rant here.
2001: The NYC Council Legalizes Ferrets For a Brief, Fleeting Moment
The Council passed a bill that lifted the ban on owning ferrets as pets, and Giuliani did not stay quiet about it. He issued a memorandum titled "Talking Points Against the Legalization of Ferrets" in which he compared ferrets to lions, pythons, and other animals that were "naturally inclined to do harm."
2001: Mere Weeks After the Ferret Legalization Bill Passes, Giuliani Vetoes It
"Over my dead body," he must have thought. But he did allow Mary Shefferman, the editor and co-creator of Modern Ferret Magazine, to present her testimony at City Hall in front of him and city council members.
Shefferman pointed out: "Ferrets are not wild animals by any definition. The ferret has been classified as domesticated.... By its nature, a domesticated species is not 'inclined to do harm,' as that is exactly what the domestication process breeds out of a species.... Domesticated species, such as the ferret, do not exist in the wild. Their proper habitat is in people's homes."
2002: Mayor Bloomberg's Administration Upholds the Ferret Ban
Maybe he secretly hated them too, or maybe he just didn't want to bother with it. But when Bloomberg inherited the ferret ban as he took office in 2002, his administration won a case to uphold the law in the State Supreme Court.
2014: Bill de Blasio Takes Office and Responds to Pro-Ferret Pleas
Besides ferret-activist Jasper starting a Change.org petition to lift the ban, the New York City Department of Health and Mental Hygiene is also urging to repeal it, stating that the noble ferret poses no more of a risk than other domesticated creatures. De Blasio's health commissioner, Dr. Mary T. Bassett, is scheduled to start considering the repeal by the end of summer.
2014: Giuliani Responds to the Madness
When asked by the New York Times what he thought of all this — surely he must some feelings swirling around — he responded, perhaps somewhat dejected and resigned, that he had come to terms with it. He's OK with de Blasio's decision, "if he's got the right scientific backup for it." Then, he wistfully looked out the window and murmured, "I don't know that he does. I don't know that he doesn't."
Sorry, Rudy, but just look at these things. Regardless of what happens with the ban, the ferrets have won.