The 'Crossbones' Cast Is Full of Badass Ladies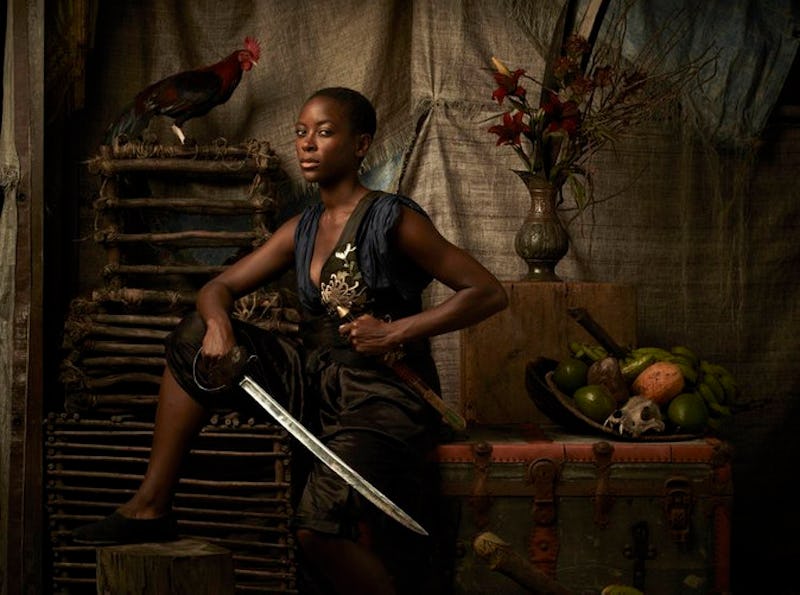 Casting is everything. You can have a brilliant script, a genius director, and the best special effects known to mankind, but if your actors are terrible or you've cast the wrong person in your lead role, then you're doomed from the start. Just think of all the iconic roles that almost didn't happen: Harrison Ford would never have been Indiana Jones if Tom Selleck hadn't turned down the role first; Michael J. Fox would never have gone B ack To The Future if director Robert Zemeckis hadn't recast original star Eric Stoltz five weeks into filming. Likewise, we might never have gotten to witness John Malkovich ham it up to Shakespearean levels as the infamous pirate Blackbeard on NBC's new series Crossbones if Hugh Laurie hadn't changed his mind about starring in the new drama.
While seeing Dr. House as Edward Teach might certainly have been interesting, there's no denying that the casting of Malkovich takes Crossbones to a whole new level of insanity. But a quick scroll through the cast list reveals that his is the only big name on the show. So who exactly will be joining Blackbeard on the high seas? Meet Crossbones' major players and we'll help you out with a hint or two about where you might have seen them before.
John Malkovich
Who he plays: Edward Teach, AKA Blackbeard, the self-proclaimed Commodore of Santa Compana, a rogue nation of outlaws.
Where you might have seen him: Everywhere. Take your pick: In romance (Dangerous Liaisons), action (Con Air), horror (Shadow Of The Vampire), fantasy (Eragon), comedy (Burn After Reading), or perhaps in Spike Jonze's Being John Malkovich. (Duh.)
Richard Coyle
Who he plays: Tom Lowe, an English spy working undercover as a surgeon, with a mission to protect the longitude chronometer... and to assassinate Blackbeard, given the chance.
Where you might have seen him: Though this English actor has done the bulk of his work across the pond in the likes of BBC shows, British films, and on stage (including co-starring with Gwyneth Paltrow in a London production of Proof), keen-eyed Americans may recognize him as Jake Gyllenhaal's older brother, Crown Prince Tus, in Prince Of Persia: The Sands Of Time, or as Piper Perabo's love interest, Simon, in Season 3 of USA's Covert Affairs.
Yasmine Al Massri
Who she plays: Selima El Sharad, Blackbeard's love interest and his rare intellectual equal, with whom he rules the pirate paradise of Santa Compana.
Where you might have seen her: Born to a Palestinian father and an Egyptian mother, Al Massri trained in dance and musical theater performance in both Paris and London. Her first screen role was in the Lebanese film Caramel, which debuted at Cannes in 2007. She also appeared in the 2007 Oscar-nominated French short film Manon sur le Bitume. The most mainstream movie on her resume is the 2010 drama Miral, starring Freida Pinto, Willem Dafoe, and Vanessa Redgrave, from Oscar-nominated director Julian Schnabel (The Diving Bell And The Butterfly).
Claire Foy
Who she plays: Kate Balfour, a member of Blackbeard's crew who finds a kindred spirit in Tom Lowe, the newest resident of Santa Compana.
Where you might have seen her: Foy may have appeared in this year's most infamous YA flop Vampire Academy, but don't hold that against her. She's most famous for starring in the title role of the Emmy- and Golden Globe-nominated BBC miniseries Little Dorrit, based on the novel by Charles Dickens. She also starred as Lady Persephone Towyn in the popular BBC series Upstairs Downstairs. Last year she appeared alongside James McAvoy (X-Men: Days Of Future Past) as Lady Macbeth in a London production of the Bard's bloody tragedy.
Tracy Ifeachor
Who she plays: Nenna Ajanlekoko, a smart and powerful fighter whose unwavering loyalty to Commodore Blackbeard is tempered by a healthy amount of fear.
Where you might have seen her: This British actress has worked primarily on such prestigious stages as The National Theatre and the Royal Shakespeare Company. Perhaps her most acclaimed work was as the leading lady Rosalind from As You Like It, one of the Bard's strongest female characters. Doctor Who fans may remember Ifeachor from her role as Abigail Naismith in the 2009 Christmas special "The End Of Time."
David Hoflin
Who he plays: Charlie Rider, a pirate captain known for his vicious and murderous tendencies.
Where you might have seen him: Hoflin may not be a household name, but chances are good you've caught a glimpse of this Swedish-born Australian actor at some point — he's guest starred on just about every TV show you can think of: Big Love, NCIS, NCIS: Los Angeles, Criminal Minds, Major Crimes, Alcatraz, and Touch, among may others.
Chris Perfetti
Who he plays: Tim Fletch (seen above, cowering behind Coyle), Tom Lowe's loyal but dim-witted friend.
Where you might have seen him: You probably haven't. Perfetti has done mostly stage work in NYC. His most acclaimed role was in the Roundabout Theater Company's production of Stephen Karam's Pulitzer-nominated play Sons Of The Prophet, which won Perfetti the 2012 Theatre World Award for Best Debut Performance. His only other television credit is as "Cody the Intern" in Dane Cook's NBC sitcom Next Caller, which was cancelled by the network before any of its four filmed episodes even aired. Here's hoping Crossbones fares better for him.
Images: NBC (7)