'Up' Turns 5 Years Old Today!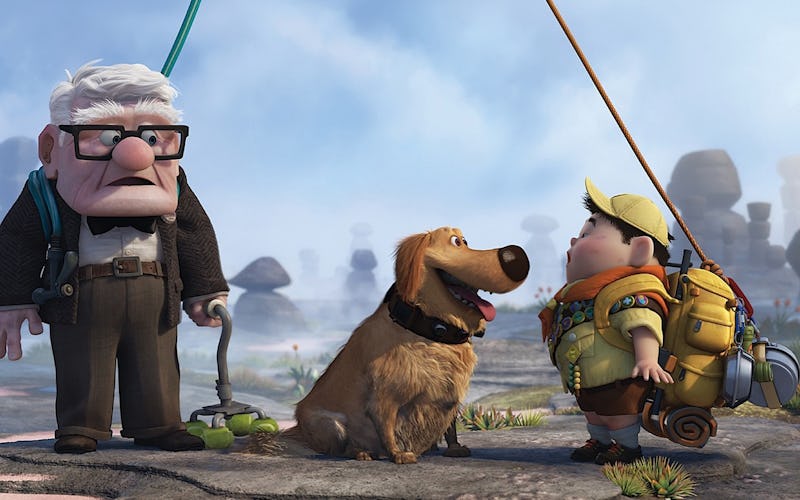 Squirrel! Everyone's favorite and wildly profound 2009 Disney-Pixar collaboration Up is celebrating its fifth anniversary today. That's right, way back on May 29, 2009, Carl and Ellie's charming love story won us over as we watched him fulfill her life's wish for adventure with a ridiculous number of balloons and a handful of hilarious friends when the film opened in theaters. And we haven't stopped talking about the Cone of Shame since. Squirrel!
From a Pixar-veteran lending his voice to yet another film to the number of balloons actually attached to Carl's house versus how much helium it'd take to lift the house IRL — to celebrate the brilliance that was Russell and Carl's friendship and of course, Dug and Kevin, here's 9 things you probably didn't know about Up.
1. Up was the first animated film and first Disney Digital 3-D film to open the Cannes International Film Festival in 2009. Even though everyone thought Ron Howard's Angels and Demons would do the honors — boo ya.
2. At the start of Carl's journey, there are 10,297 balloons attached to his home. But, according to Wired, who took the time to do real life calculations for balloon-travel, it'd take a lot more than that. They figure that the structure itself weighs about 100,000 pounds thus, taking into account the buoyancy of helium (0.0067 pounds/cubic square foot) and volume of blown up balloons, it'd take over 105,854 filled balloons to life a house IRL.
3. Pixar had a group of actual ostriches in the studio to inform the creation of Kevin. They belonged to a Califoria veterinarian, Dr. James Stewart.
4. John Ratzenberger, as per Pixar tradition, lent his voice to Up — he voiced Construction Worker Tom — like he has for every other Pixar film since Toy Story in 1995.
5. Up is the second animated film to be nominated for Best Picture at the Academy Awards — the only other animated film to do so was a fellow Disney-creation, Beauty and the Beast in 1991.
6. Ellie's dream adventure spot, Paradise Falls, is actually based on a real life natural wonder. Up's falls are based on Angel Falls in Venezuela which stands at 3,212 feet tall in comparison to Paradise Fall's 1.2 miles tall (9,700 feet).
7. Up is also the first animated film to ever be nominated for both Best Animated Feature and Best Picture at the Academy Awards. (The Best Animated Feature category wasn't introduced until 2001.)
8. Jordan Nagai, who voiced Russell in Up actually wasn't supposed to audition for the role at all. The younger actor tagged along with his older brother, Hunter, who was actually auditioning for Russell. It was the film's director Pete Doctor that suggested Jordan audition and when they listened to his tape, 35-tapes later at Pixar, the innocence in his voice won them over.
9. All of the film's characters are based on either circle or square shapes in their entirety. And Up's villians are all triangle-based. If you look closely, all of Carl and Ellie's furniture and picture frames reflect that — like in these GIFs.
Ellie's photo is in a circular frame and Carl's, right next to her's is square.
Square chair for Carl and circular chair for Ellie.
Images: Disney-Pixar, its-all-about-the-simple-things/Tumblr, upgifs/Tumblr, pixarup/Tumblr, ishallforeverbeadisneyprincess/Tumblr, c-isnenegro/Tumblr, forthedisneylove/Tumblr