Is He Andi's Coolest Contestant?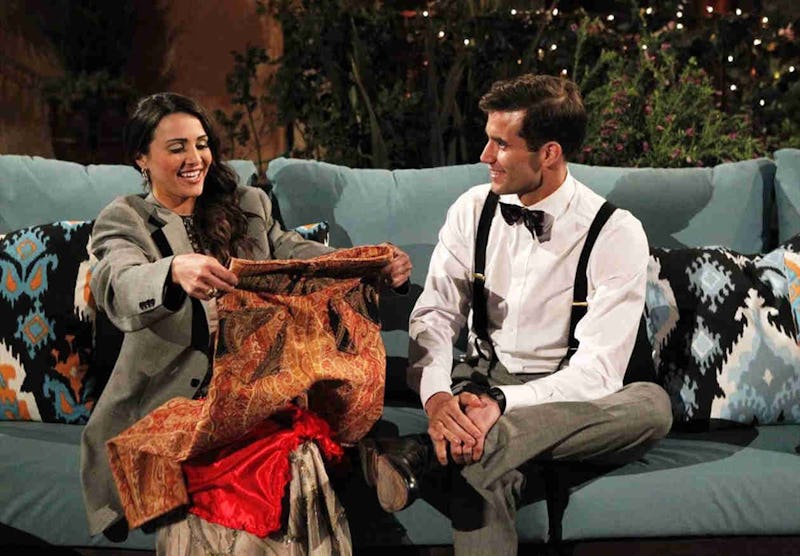 There always has to be one. ABC's The Bachelor and The Bachelorette are a breeding ground for unique occupations and Andi Dorfman's Season 10 of The Bachelorette is no exception. We finally got to know the guys a lot better during Week 2 — and which ones can't handle their booze — but unfortunately, JJ O'Brien wasn't one of them. And it was real shame, because it seems like he's going to be the coolest competitor of all — and I'm saying that because he totally made up his job title. (I'm not sure it's even a real word.)
According to his Bachelorette profile, O'Brien is a "pantsapreneur." Yes, you read that correctly and no, I didn't spell "entrepreneur" wrong. That's actually what the 30-year-old Stanford graduate claims as his job title. And here we are wondering what the hell that means — kind of like when we wondered what a "Free Spirit" did for a living during Juan Pablo's season of The Bachelor. All right, fine, it's not that difficult to figure out what O'Brien means with this silly play on words — other than that he's a super-cool dude that knows the power of a unique occupation. (Seriously, no one's thinking about whether the accountant is right for Andi.) He did give Andi a pair of said pants during their first one-on-one session, after all.
So, what's a "pantsapreneur"? Well, as far as I can tell, it's an entrepreneur of pants. Or, in O'Brien's case, his impossibly cool clothing line. It's called Hem Haus and it's all of the attire you need to live "life less ordinary." You're drinking the Kool-Aid already, aren't you? I knew it. What does said attire look like? It's a handful of wildly printed pants; sleeveless, faux-fur hoodies in neon colors; and graphic tank tops (which make perfect sense with the fact that one of his favorite movies is the original Alice in Wonderland )— everything you need to start living a more interesting, quirky life.
That's exactly what O'Brien is: quirky, fun, and clearly going out on a limb to make his ideal life. On his About Me page, he calls himself a "Dream Weaver" and on Hem Haus' About page, the company is simply called his "creative gateway." But aside from that — even though starting your own, hip company and being successful is enough to convince us that O'Brien is amazing — the contestant is also ridiculously good at translating that awesomeness to social media.
I don't know what's going on here, but I definitely want to know. For Andi, whose job takes her to the edge, daily, it could be a great fit for her to be with someone who's creative and light-hearted while still being successful. Even though he might not want to relocate to Atlanta for her:
Show-related humor? I like it. There are a lot of great guys still in the running for Andi's true love that are trying way too hard to stand out from the crowd. Andi's all about keeping it real, right? Well, O'Brien's brand of unique is the most organic out of all of them and he really owns who he is and what he's about. At least she'll never be bored.
Images: ABC; JJObrien/Instagram (2)