This Is A Pirate Show, Easy on The Pirates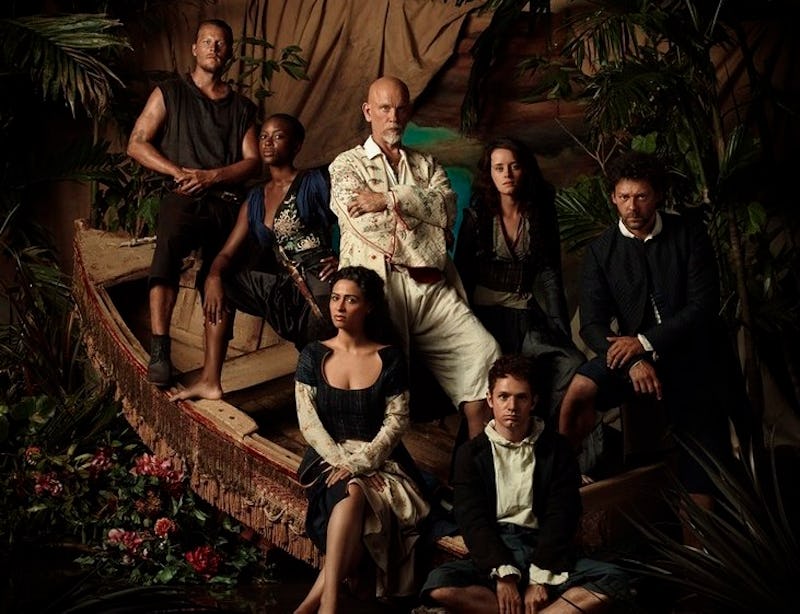 Blackbeard and his band of pirates are in search of the mother-load on NBC's summertime drama Crossbones. Portrayed by John Malkovich, the famed pirate doesn't actually have a black beard in the series. And he spends quite a bit of his time on a private island he's set up for British Empire dissidents rather than at sea. But it's not because the network has taken some needless liberties with the series. Crossbones is actually (loosely) based on a 2007 non-fiction book written by Maine author Colin Woodard.
The Republic of Pirates: Being the True and Surprising Story of the Caribbean Pirates and the Man Who Brought Them Down tells the story of Blackbeard and other famed 18th century pirate captains who sought to set up a society with rules separate from the Empire. Instead of rum-soaked lawless criminals, the book depicts pirates as rebels, who longed for a democracy instead of the Empire's heavy hand.
Honestly, even if Blackbeard wasn't championing some noble cause, with Malkovich behind the character, we probably would've wound up cheering for him anyway. But not being completely evil surely stacks the odds completely in his favor, no? Hmm maybe not. During a recent interview with LA Times, executive producer Neil Cross revealed that pirates will not be the main focus of Crossbones.
The real Blackbeard died in 1718 and was believed to be in his '30s when he passed, so clearly the series isn't going for an exact account of his life. Many of the events featured in the historical book will simple serve as a basis for the series including the circumstances that led to the Empire seeking to put an end to the pirate and his band of misfits and their little paradise away from British rule. Cross also told the Portland Press Herald that Crossbones is more about entertainment, unlike Woodard's book which is focused on history.
To summarize what we have here is a show based on a non-fiction book. It'll be somewhat historically accurate except for the ways it's totally not. Yes, there will be pirates, but the show is not necessarily about pirates. There will, somehow, still be lots of action… presumably involving the pirates. But again, this is not about pirates.
Richard Coyle and Yasmine Al Massri will also star in the show as Tom Lowe, British assassin, spy and jack-of-all trades, who is captured by Blackbeard, and Selima El Sharad, the pirate's headstrong love interest.
Crossbones will premiere on Friday at 10 PM.
Images: Francisco Roman/NBC (2)