'The Challenge' Has Its own Ross and Rachel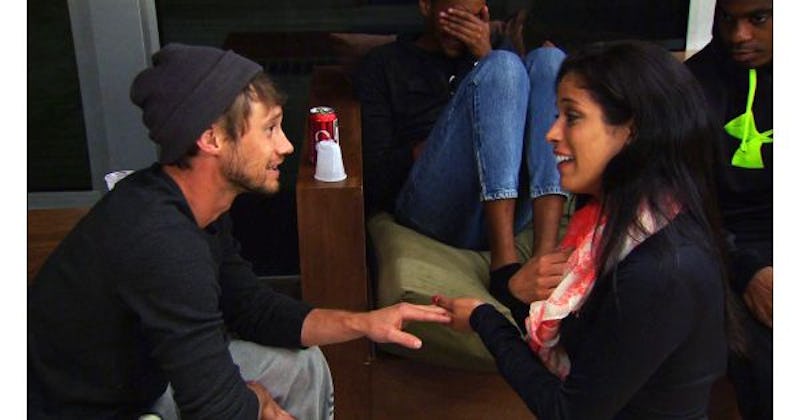 A nerdy, albeit sweet guy falls in love with his gorgeous, sometimes superficial, but good-hearted best friend. The two exchange a few stolen kisses here and there, and their love seemed like it was meant to be. But alas! The gal has been hurt in the past, or she pays attention to other fellas, and our main man is left bewildered, and still pining. Sound like an awkward paleontologist and a quippy waitress you might find inside Central Perk? Sure does. It also sounds exactly like Cohutta and Nany on The Challenge: Free Agents . We've watched these two swoon for each other all season, and things finally came to a boiling point on Thursday's episode when Nany hooked up with Johnny (while she and Cohutta were definitely NOT on a break).
Unlike Ross and Rachel, whose "Will they/Won't they" dynamic did finally come to a conclusion, these two still seem up in the air about their status. Cohutta, who plays the sensitive and empathetic role to Nany's guarded aloofness, is the one we're really rooting for in this situation. Everything that comes out of the guy's mouth is just downright delightful. Cohutta's all-around good dude-ness even caught the eye of the host TJ Lavin. After Cohutta sent Preston home in the elimination round, Lavin remarked on his chiseled jaw and dashing good looks. He's just charming the pants off of this entire show.
Throughout Thursday's episode, we also saw flashbacks into Nany's romantic past that lead us to believe she's been treated poorly in the past. After regretfully hooking up with Johnny, she realized that what she actually wants is a stable relationship with a good person. Who is... oh, I don't know... her BFF and the guy RIGHT IN FRONT OF HER? C'mon Nany, forget the Barrys of your past and go for the Ross.
Thankfully, these two painfully obvious and frustratingly stubborn lovebirds were both safe from elimination this week. As The Challenge comes closer to the finale, their romance might be cut short before it ever truly takes off. Now we just need Cohutta to accidentally say Nany's name during some wedding vows for this whole comparison to really work...
Image: MTV