Look Who's In The New Miguel Video!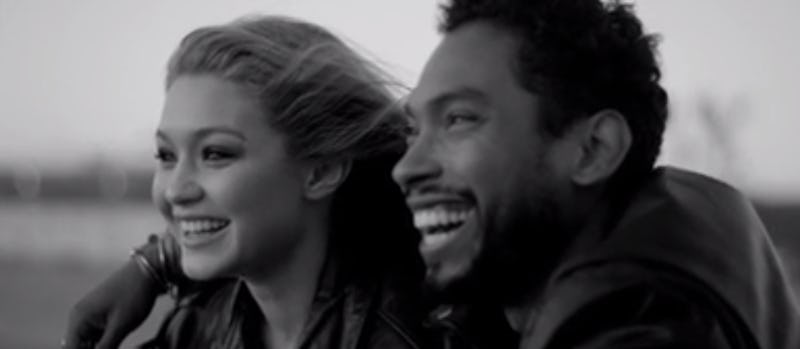 Well, well, well. It would appear as though Lisa Vanderpump isn't the only video vixen on the Real Housewives of Beverly Hills block (okay, fine. We knew that as soon as we watched the "G.U.Y." video. That vid is a gift, and may we never forget it). Gigi Hadid is in the new Miguel music video. But this isn't Yolanda Foster's daughter's first mus-vid, mind you: The up-and-coming model also appeared in ex-boyfriend Cody Simpson's "Surfboard" music video. The video for Miguel's "Simplethings" hit the Internet Friday. And it is the HEAT.
You want to know what happens in the "Simplethings" music video? To sum it up in a sentence: Miguel and Hadid walk around Hollywood and turn into wolves (we never actually witness the Animorphs-y process, but it's implied). Unsurprisingly, Hadid looks beautiful the entire time (Miguel ain't too shabby, either). My GOODNESS. She really is a stunning lady, isn't she? I attempted to recreate her eye makeup look, but quite frankly, I don't have the skills. It was as if I'd dipped cucumber slices in ink, pressed them against my eyelids, and just hoped it'd all work out. (It did not work out.)
What does Foster have to say about her daughter's newest music video? Let's ask her (i.e., have a conversation with some GIFs):
Hello, Yolanda!
Well, don't you look incred. That's a really nice gown. I feel extremely underdressed. I hope my uber-casual cutoff jean shorts don't offend you.
Okay, okay. If you insist. Can you believe Gigi is in a Miguel music video?!
Oh, I would never! The video is aces. Gosh, Gigi is so cute.
Oh my god, you're right. She transcends "cute." Forgive me, it's a Friday. She's a very lovely young woman. Her career is going so well! You must be beyond proud. Can't wait to see what she does next.
What's your favorite part of the music video? Mine is the wolves.
Oh, duh. Your favorite part is Gigi. I should've guessed. Gosh, I'm really off of my A game today. I should drink a cup of coffee or something.
You always have the best ideas.
Images: Art Dealer Chic/YouTube; brokegifs/tumblr (2); realitytvgifs/tumblr (4); tvwhorga/tumblr