Plan B Vs. Cialis: The Moral Double Standard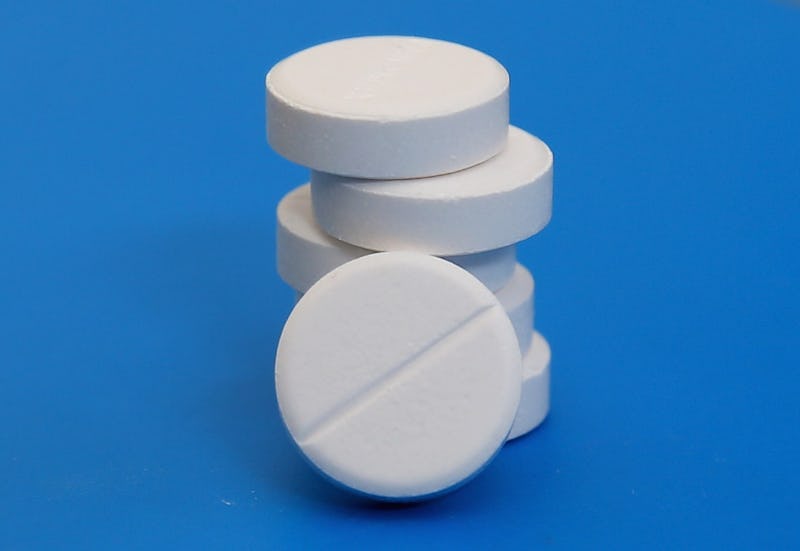 Scott Barbour/Getty Images News/Getty Images
If American male privilege were a drug, it would probably be an erectile dysfunction medication. The little blue pill and its various spin-offs have been praised far and wide from everyone from Hugh Hefner to Bob Dole. Even Penthouse publisher Bob Gucciano once heralded it as the drug that could "undercut the feminist agenda."
It's now been nearly 15 years since Viagra made its way into the nation's medicine cabinets, with Pfizer reporting more than 35 million prescriptions issued worldwide for the original medication since its release. And just last week, it was announced that a newer incarnation of the wonder drug made by manufacturer Eli Lilly, Cialis, may actually become an over-the-counter medicine. The reason? Apparently, the "embarrassment" factor of asking an MD to prescribe the drug hampers sales.
Truly essential reproductive health prescriptions like Plan B, meanwhile, have had to fight every step of the way.
There is an obvious moral double standard at work here: a paternalistic furore surrounds the access to the "potentially-dangerous" Plan B, while erectile dysfunction drugs are welcomed as a benign booster of male morale.
How is it that a drug used to temporarily enhance male pleasure (with plenty of side effects) is less controversial for over-the-counter status than Plan B, which is truly an essential drug? It's a rhetorical question to which we know the answer all too well. If only men could get pregnant, goes the feminist lament, then maybe they'd be able to fully comprehend the importance of access to reproductive healthcare.
Ironically, the libertarian argument for letting these drugs be over the counter is an "our bodies, our choice" defense. Of course, the same argument isn't so welcome when applied to that other controversial over-the-counter medicine, Plan B.
It took nearly a decade of campaigning to make the emergency contraceptive available over the counter. When the Food and Drug Administration finally granted its approval, the decision was then overruled by Health and Human Services Secretary Kathleen Sebelius, on the basis that Plan B could be accessed by girls too young to make an informed decision about their reproductive heath — a concern the Obama Administration initially shared. In 2013, U.S. district Judge Edward Korman finally overturned the ruling, and the drug was then made available to anyone aged 15 and older. Even now, however, pharmacists still have the right to refuse sale of Plan B on the basis of religious conviction.
There is an obvious moral double standard at work here: a paternalistic furore surrounds access to the "potentially-dangerous" Plan B, while erectile dysfunction drugs are welcomed as a benign booster of male morale.
Oh, and we haven't even gotten to the idea of a female viagra yet.
The ease with which male impotence drugs but not female libido boosters have been absorbed into the market — with public sponsorships of race cars no less — reflects a further inconsistency about perceptions of male and female sexual prowess. Can you imagine such a high-profile and glamorized sponsorship of a female libido drug? The double-standard quickly becomes clear.
In What Women Want, Daniel Bergner's seminal book on the myths about female sexuality, Bergner suggested that it was the pernicious politics that were to blame:
"More than one adviser to the industry told me that companies worried about the prospect that their study results would be too strong, that the F.D.A. would reject an application out of concern that a chemical would lead to female excesses, crazed binges of infidelity, societal splintering."
Generally speaking, drugs shift from prescription-only to over-the-counter availability when they've been proven safe — Bendaryl is one such an example. OTC products have to be labeled with a Drug Facts panel, and contain information on both active and inactive ingredients, directions for use, safety warnings, and what the drug actually does.
But it seems to be that one set of rules exists for male performance enhancers and another for women. Forty-three per cent of women report low sexual desire, but despite positive clinical trial results, the FDA still won't approve the female libido drug Filbanserin.
I'd posit that it is a fear of sexually-rampant women that prevents manufacture and distribution of a female libido drug, not legitimate public health concerns. Which is why a female Viagra remains even more provocative than Plan B — while the idea of selling Cialis over the counter is barely newsworthy.
Of course, there's no guarantee that Cialis will be on sale on the shelves of Walgreens anytime soon. In 2008, Pfizer withdrew its bid to make Viagra available over the counter. Perhaps the restriction of ED drugs over the counter would make men more sympathetic to the need for accessible reproductive health care. (Hey, we can dream.)
But if Cialis does manage to secure itself over the counter, it'll prove what many of us have suspected about the American Wet Dream all along — that a Guy's Right To Get Laid is still taken more respected in this country than Roe vs Wade.