Lena Dunham's Best Outfit Yet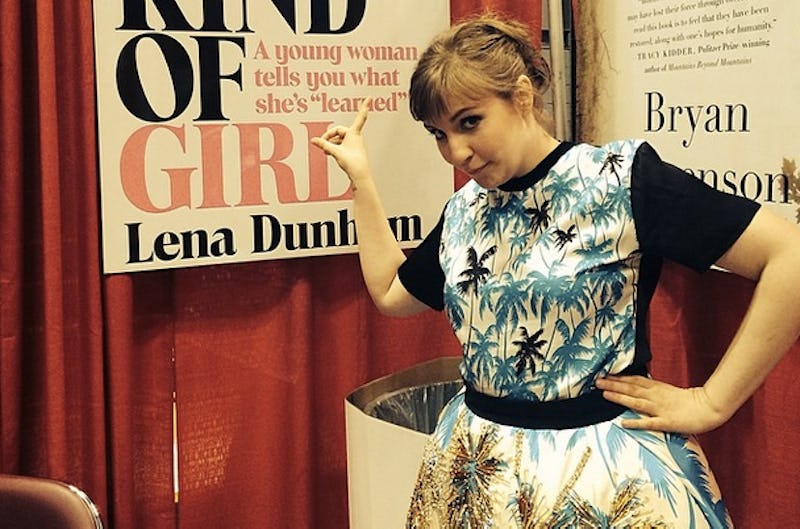 Lena Dunham may pick up flack for her out-there fashion sense, but we (almost) always think she looks awesome. Her laid-back-yet-dressed up Fausto Puglisi ensemble was the perfect get-up for the author of what's sure to be a New York Times-bestseller-list-topper. Yep: Not That Kind of Girl is due to be published in October, and Dunham's appearance at BookExpo America is sure to be the first of many (yay, more Dunham while we hungrily wait out the oh-so-long hiatus until Girls season 4 premieres!).
Though others in the fashion world may not agree, I love the fact that she went bright and bold for her big night, because this delightful, borderline-clash-y outfit is just plain, unapologetic whimsy. Dunham's famous for being comfortable in her own skin, and I'm glad that comfort extends to fashion risks as well. Who else has the gumption to pair an electric blue palm tree blouse with a beaded (and poofy) palm tree skirt? Oh, and to top the whole thing off with coral colored Jimmy Choo kitten heels and a (very) messy ponytail? All of the un-ironic props in the world to you, Ms. Dunham, because it doesn't get any more fun than that (insert Cyndi Lauper/Girls pun here).
So, keep on ignoring the haters, Lena! I'm here with you while you laugh all the way to the bank with your $3 million-plus book deal, and I'm expecting a lot more brightly-colored, wildly-silhouetted, crazily-printed — and most importantly — drama-bringing outfits along the way.
Image: lenadunham/Instagram