'TFIOS' Will Make You Think With These Quotes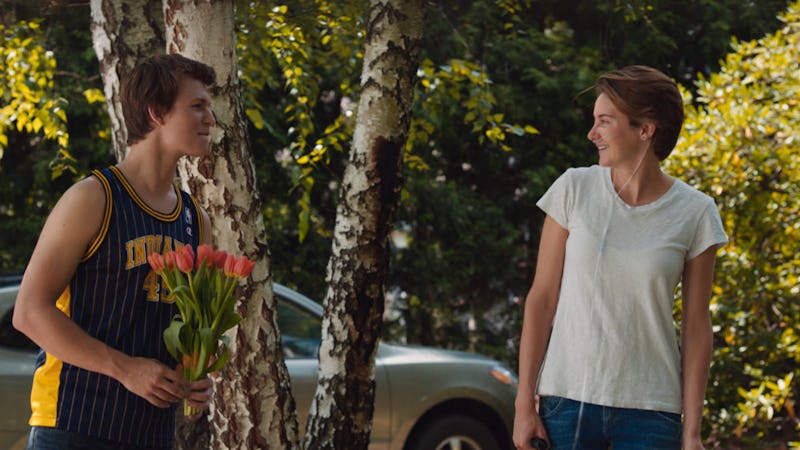 The Fault in Our Stars may be funny, romantic, and (of course) terribly sad, but it also has one more thing going for it: it's incredibly thought-provoking. I don't typically read self-described young adult fiction because I want it to make me think about life — I dive into YA novels like Pretty Little Liars or the Hunger Games specifically for the purpose of escape. When I picked up The Fault in Our Stars, I was pleasantly surprised by what I found. Yes, the novel did allow me to escape into a fantastic love story, but it also raised some serious questions about life, love, and loss. The book was so profound that it's easy to forget that you can pick it up in the young adult section of your book store.
If you haven't yet picked up the novel — and have been able to avoid the crazy amount of coverage this film is getting — the book is about a teenage cancer patient named Hazel who falls in love with Gus, a cancer survivor with a "make every moment count" outlook on life. Gus' attitude about life, death, and living each moment to its fullest rubs off on Hazel — not to mention the reader. As we go on this journey with Hazel, it's hard not to feel like Gus is our own personal life mentor, even as he struggles with some seriously heavy stuff.
The book is jam-packed with quotes about life that will make you think (and possibly tear up.) Here's a list of 11 of the best:
1. "You don't get to choose if you get hurt in this world... but you do have some say in who hurts you."
2. "That's the thing about pain. It demands to be felt."
3. "I enjoy looking at beautiful people, and I decided a while ago not to deny myself the simpler pleasures of existence."***
***Note: Not an excuse to ogle randoms on the street. But definitely a sweet thing to say to your significant other.
4. "Sometimes the Universe wants to be noticed."
5. "The world wasn't made for us, we were made for the world."
6. "The real heroes anyway aren't the people doing things; the real heroes are the people noticing things, paying attention. The guy who invented the smallpox vaccine didn't actually invent anything. He just noticed that people with cowpox didn't get smallpox."
7. "Observation: It would be awesome to fly in a super fast airplane that could chase the sunrise around the world for a while."
8. "There's no way of knowing that your last good day is Your Last Good Day. At the time, it is just another good day."
9. "The world is not a wish-granting factory."
10. "Some people don't understand the promises they're making when they make them." "Right, of course. But you keep the promise anyway. That's what love is. Love is keeping the promise anyway."
11. "I'm on a roller coaster that only goes up."
The film adaptation of The Fault in Our Stars premieres June 6.
Images: 20th Century Fox/Temple Hill Entertainment, july16th/tumblr (6)