She Went From Amish To A Model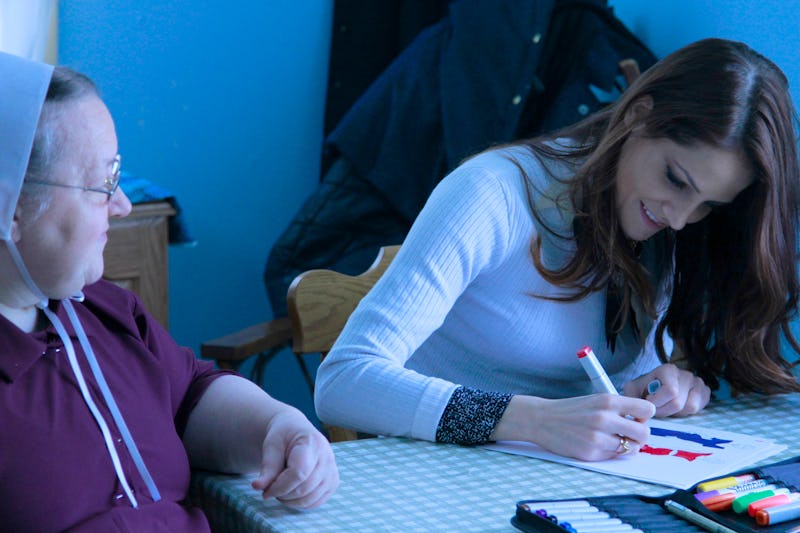 It brings a tear to our eye. Our little Kate, the seemingly goodie-two-shoes bishop's daughter on Breaking Amish is now all grown up on the new spin-off series Return to Amish . Kate always dreamed of being a model, something that was totally not kosher with the Amish church, which doesn't even allow followers to have their pictures taken. Still, when Kate jetted off to New York City for Breaking Amish, she struck a pose on a go-see and got some encouraging feedback. Fast-forward two years, and we're now following all of Kate's adventures in model land on Return to Amish.
During Return to Amish's series premiere, we learned that Kate's last name was the first casualty of her new life as she changed it from Stoltzfus to just Stoltz because it has a better ring to it. In the episode, Kate landed her first-ever New York Fashion Week gig, modeling in a presentation for Cesar Galindo's CZAR collection. Although we're not sure if Galindo was more excited about having Kate model in his presentation or getting his picture taken with Kate's still-Amish friends Mary and Katie Ann, this was still a big deal for Kate's career. Kate's photo is also featured on CZAR's official website. So where else has Kate brought her smizing to? You may have seen some of her fashion spreads without even realizing it.
In the finale of Breaking Amish, Kate modeled for Bella Magazine and also nabbed the cover of the catalog of fashion brand Spiegel in a special recreation of its Spring & Summer 1958 catalog. After Breaking Amish, America's Next Top Ex-Amish Model landed a modeling contract with Major Model Management in New York. She soon grabbed headlines with one of her first major modeling jobs, earning a spread in the July/August 2013 issue of Maxim , which is about as far away from Amish as it gets.
Since then, many of Kate's photo shoots have been on the sexier side. She posed in lingerie for The New York Post and Barcroft USA, which she told Good Morning America in July 2013 she would never do. She's also got a bunch of fancy photos on her Instagram page, both professional and just for fun.
While Kate admits she's the black sheep of her family, she says they still invite her to come back home, even if they would never have the desire to look at her photos. Jeremiah also disapproves of Kate's risque shoots, predicting she'll be a porn star in a year from now in one episode this season of Return to Amish. Knowing that millions of people have already seen Kate's modeling in action, we bet that she'll be just fine.
Images: TLC; alynmartinhair/Instagram