Will Their Be A Wedding On 'KUWTK'?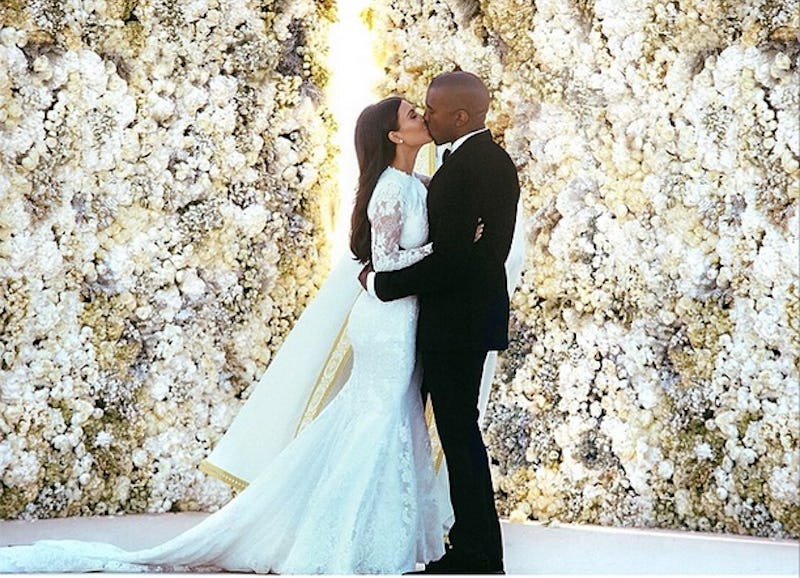 Are we still hearing wedding bells? Yes, yes we are. We anxiously watched from afar as the Kimye wedding unfolded in Italy over Memorial Day Weekend with a special serenade by Andrea Boccelli. But once the new season of Keeping Up With the Kardashians airs on June 8, we'll be getting an inside look — well, sort of. E! has already released a statement that we will see parts of the Kimye Wedding on the show, but which parts will that be?
Obviously, the first question I asked myself when I saw the first photos of the Kimye wedding was whether or not it was filmed for KUWTK. Not that I expected it to be an event situation like Kim's marriage to Kris Humphries, of course. But after Kanye allowed his grand engagement gesture to become a two-episode event on the show, I thought for sure there would be cameras around. Alas, they won't — but straight from Kim's mouth and E!'s assertion that if we tune into this season of KUWTK, we'll see the road to the wedding, here's what you can expect.
First, following all of E!'s coverage of the Kimye Wedding extravaganza, they've included this plug for the new season of the show:
To see the road to Kim and Kanye's wedding—from Los Angeles to Paris to Italy—tune in to the new season of Keeping Up With the Kardashians, premiering Sunday, June 8, on E!
Standard — "the road to Kim and Kanye's wedding," so that means we'll actually find out if Kanye terrorized their wedding planner, right? God, I hope so. There was also that time on May 7, just a few weeks before the nuptials took place at Fort Belvedere, that Kim took to her Twitter to clear the air and keep it real. Mrs. West gave us all a good, stern, motherly talking to about what was actually going down at Kamp Kardashian. And the reality star addressed, directly, whether or not her wedding would be featured on the show's new season:
So, does that mean the Parisian bachelorette party, the luncheon at Valentino's estate (complete with Lana Del Rey performance), and the trip from Paris to Florence are all fair game? Again, I hope so. The couple have made good on their promise to share via photos — most recently with a photo from their mid-ceremony serenade courtesy of famous Italian tenor, Andrea Boccelli. So, if we don't get to have an actual view of the ceremony, here's what you should be prepared to see of Kimye's wedding on Keeping Up With the Kardashians Season 9:
The planning — and definitely Kim crying one time because Kris won't let her have the flowers she wants. And fighting over the guest list — so much fighting over the guest list.
The dress — Kim kept her dress a secret until the very last moment, but they had to have filmed the final fitting, right?
The hair and make-up — the stylist that did Kim's hair and make-up for the big day has been surprisingly vocal about everything from Kim getting layers to exactly which products her used to craft her angelic face. Translation: totally filmed.
The bachelorette party — c'mon, they just have to.
The Valentino luncheon — again, they aren't going to pass up the opportunity to do this. (Well, unless Valentino asked for no cameras.) I mean, Lana Del Rey was there.
Jonathan Cheban and Brittny Gastineau's foodie sidebar — Kim's besties did take a selfie together during their trip to Paris. This would just be fun.
The flight to Florence — you know some craziness had to go down on that chartered plane from Paris to Florence for the wedding ceremony.
The honeymoon — I mean, I could see a few snippets of their bike tour sneaking their way into the show. After all, Ireland is a beautiful place and bike tours just seem so normal.
Image: KimKardashian/Instagram