Who is that 'SYTYCD' Alum in A Deodorant Ad?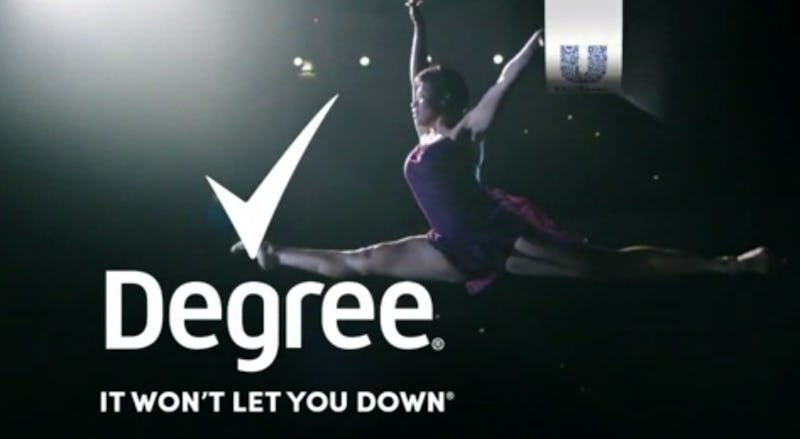 Season 11 of So You Think You Can Dance has only just begun, but the alumni cameos are already POPPIN'. A handful of former contestants have swung by the first round of auditions (hey, Fikshun! Hey, Cyrus! Hey, Legacy! That freestyle battle sure was a treat. Missed your faces) and the commercial breaks: Yes, that is SYTYCD Season 10 runner-up Jasmine Harper in that Degree MotionSense deodorant ad. Your gut and/or that "JASMINE HARPER: So You Think You Can Dance finalist" text at the bottom of the screen did not deceive you.
I'm always stoked to see SYTYCDers from yesteryear doing work, be it a commercial, a music video, a dance movie, or a concert tour. This Degree ad is no exception.
In the ad, Harper turns, extends her leg, and leaps. And then, there's a graph. I think the deodorant is supposed to detect every time she moves? And I think it's supposed to release more deodorant power with every turn, leg extension, and leap? Ugh, don't ask me, I'm not a deodorant scientist.
The ad has yet to compel me to go out and buy the deodorant (no disrespect to Degree, I just don't need new deo at the moment), but it did compel me to revisit some of Harper's best SYTYCD performances:
"Run The World"
Harper and Comfort SLAAAAAAAAY IT. (I may or may have not contributed to half of those 430,000+ YouTube views while attempting to learn this choreo.)
The Giving Tree Routine
Oof oof oof. The Harper and Aaron Turner partnership was such a terrific partnership. One for the books. May we never forget it.
"Gold Rush"
You're welcome.
"Bottom of the River"
Harper + Turner + a Sonja Tayeh routine. This is my kryptonite.
And, of course, the inspiration for this trip down SYTYCD memory lane:
Image: Degree Deodorant/iSpot.tv