The History Of Mickey Mouse Ears In Fashion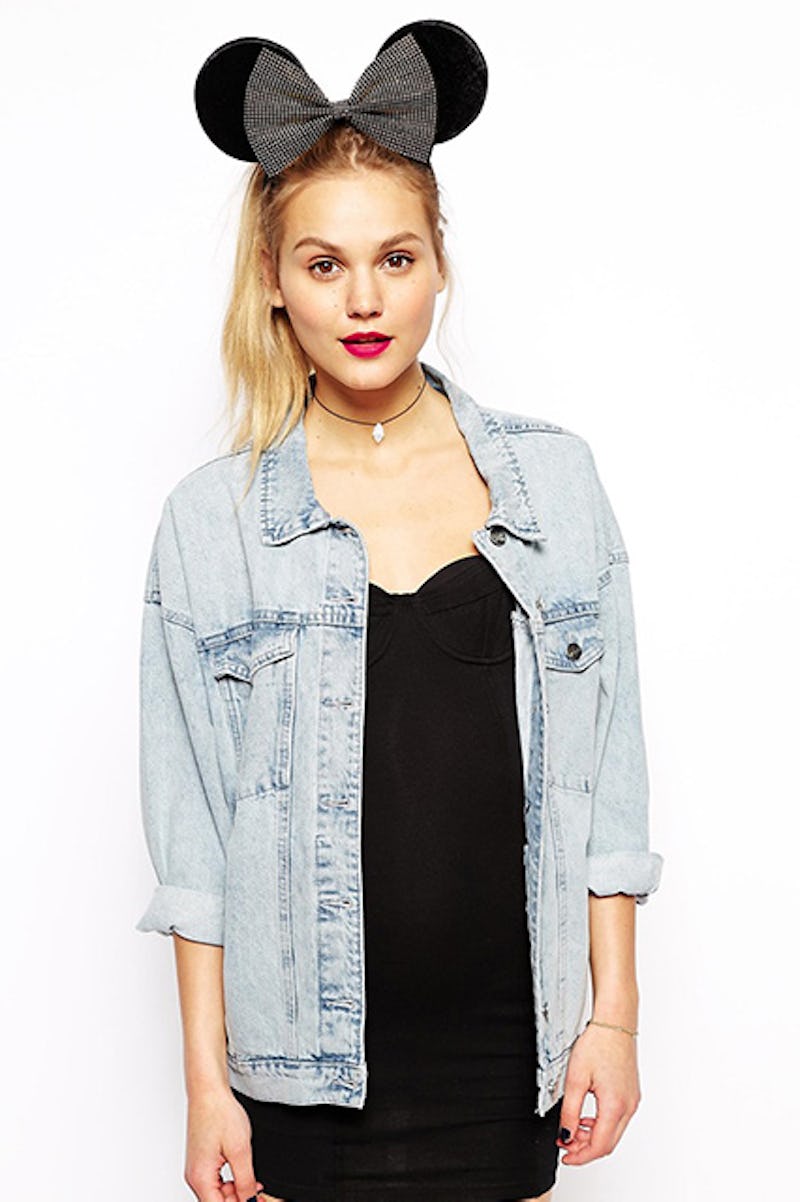 ASOS just debuted a collaboration with Disney that made my heart stop. From glitzy and glam to flower-filled festival gear, the international brand has done it again with their line of wacky, yet fashionable, Mickey Mouse ears. They come in simple neutrals such as black and white as well as sequined versions. Some are Minnie Mouse ears, with giant bows accessorizing their roundness, and some use the texture of the ears themselves to make a statement. All of them are incredible. The ears are a cultural icon, something recognizable across the world because of their rich tradition and presence in modern pop culture. But where did it begin?
Mickey Mouse ears were, of course, originated on the head of Mickey himself. After The Mickey Mouse Club — an American variety show that aired on and off between the years 1955 and 1996 — began, the ears gained popularity as an accessory. The kids on the show wore hats with ears attached, and a logo emblazoned on the front. According to mickeymouseears.com, the hats were created by Roy Williams, a Mouseketeer.
In the mid-80s, the cap transitioned to a lighter, more fashionable headband. This made them even more profitable in Disney theme parks. Shortly after the original ears took off, a Minnie mouse version that included a red polka-dotted bow on between the two large round ears sparked even more success.
Fast forward to recent years and high fashion has taken a liking to the iconic symbol. For example, Jeremy Scott in 2009. The edgy designer, now creative director at Moschino, brought Mickey Mouse ears to the forefront in a totally new way. Scott set the icon against bright yellows for dresses, leggings and more, and, more notably, created the Mickey Mouse eared sunglasses that many will recognize from Lady Gaga's "Paparazzi" video (Queen Bey even sported them in the "Telephone" video).
Mickey Mouse isn't the only fashion-inspiring mouse, however. Producer and performer DeadMau5 has also introduced a fairly iconic mouse logo. Fun (read: Gross) Face: The musician isn't named after our favorite cartoon rodent, however, but rather a poor, deceased mouse that wound up in his computer one day. Ew. His logo came about from a friend's sketch, but there might be a trademark debate coming soon from The Walk Disney Company.
Thanks to their widespread relevance, Mickey Mouse ears have appeared on magazine covers, in various clothing label collaborations, on high fashion runways and in theme parks. Now they're available through low-priced, high-styled website ASOS, and I just can't wait to get our hands on some.
Images: Disney for ASOS via Refinery29, The Walt Disney Company, Linda Farrow, Tumblr