10 'ANTM' Models Who Broke The Mold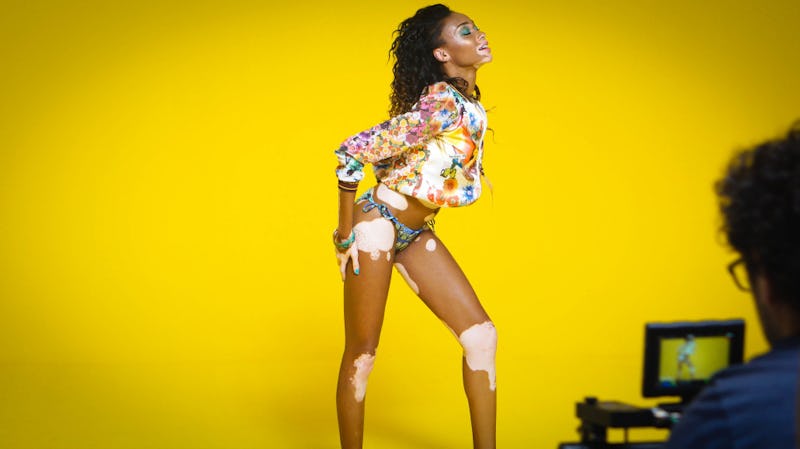 This summer, aspiring model Chantelle Brown-Young was the first contestant on America's Next Top Model (Cycle 21) to compete with vitiligo, a condition that causes depigmentation of the skin. Chantelle was eliminated fourth, but as every ANTM fan knows, that isn't the predictor of a successful modeling career. Brown-Young is already the face of a new Desigual campaign, making her the latest ANTM contestant to successfully break the mold.
Brown-Young is part of an important trend to open up the definition of what the fashion industry finds beautiful. Because despite efforts to improve diversity, the fashion industry is still mostly dominated by white, blonde, blue-eyed, very thin models.
While ANTM has had its own struggles with accepting diversity, it's still ahead of the rest of the fashion world. The show has been at the forefront of helping push the boundaries of just what a supermodel is allowed to look like.
I have to humble-brag here — I am particularly qualified to write this article. I was a contestant on Season 9 of America's Next Top Model , and I am now a working plus-size model. So here, in no particular order, are my picks for fellow ANTM contestants who truly broke the mold.
TOCCARA, Cycle 3
ANTM's first and arguably most beloved plus-size contestant, Toccara was and is F.A.B.U.L.O.U.S. She was also a pioneer: plus size models and fashion are way more culturally-mainstream now than when she competed. Since ANTM, Toccarra has graced the pages of Italian Vogue and produced her own workout video.
WHITNEY THOMPSON, Cycle 9
Whitney is a traditional American beauty: blond, blue eyes, sparkling smile. But she also made ANTM history by being the first plus-size winner, which was a big deal to me as a fellow aspiring plus-size model. To be honest, I had always felt like less of a model because I was plus-size, and winning had never felt like a real possibility to me — even when I was a contestant the season before. Seeing Whitney win made me realize that we're all models, so I should quit whining, be grateful, and get to work.
BIANCA GOLDEN, Cycles 9 & 17
I know I'm biased because I lived with her and taught her how to scramble eggs, but Bianca rocked a bald head like nobody's business — even when given the option of wearing a wig. She's also gone on to be one of the most prominent alums of the show, largely because she doesn't give a damn what you or I think.
KIM, Cycle 5
Kim was the first openly gay contestant on ANTM, which was the subject of much excitement and titillation for her fellow cast mates. It also helped expose viewers to the fact that, duh, models can be gay.
ISIS, Cycles 11 & 17
Isis was the first transgender model on ANTM, long before that was "in" in the fashion world. Transgender people face intrusive, dehumanizing inquiries about their bodies and sexual preferences all the time, especially if they're public figures and Isis was no exception. What was radical — in addition to her beauty — was the fact that Isis was living and working alongside her fellow contestants. Their curiosity was understandable, but once they got past it, Isis was able to show them and the audience that she was just another multifaceted human being trying to smize while partially submerged in water. And, really, who isn't?
ANCHAL, Cycle 7
Underrepresentation of South Asian models is real. And when they are represented? Racism can stand in the way — (even GAP faced crazy racist backlash when they used an Indian model in one of their campaigns last year). But on ANTM, Anchal could serve some serious face. Like, the girl looks photoshopped in candid pictures. Bonkers. (Also, um, she dated Jim Carrey. How random is that?)
ANN, CYCLE 15
Models are tall. Everyone knows that. It's kind of our thing. But what a lot of people don't know there is a height cut-off at a lot of agencies: six feet. In fact, before she was on the show, Ann was rejected by several agencies because of her height. She broke barriers by showing that even the tallest women can rock it on the runway.
FATIMA, Cycle 10
As one of 125 million women and girls who have been forced into the procedure, Fatima put a much-needed face to genital mutilation. She's one of the most successful ANTM graduates: she's been on Vogue covers and headed numerous international campaigns. Fatima gives hope to Top Model alum everywhere that getting your start on a reality show doesn't doom you to a life of cat fights and wine-throwing.
ALLISON HARVARD, Cycles 12 & 17
I know, I know. She's a blonde, blue-eyed twig. But she's also adorkable and a total weirdo. When I was an awkward, nerdy girl in middle school towering over all the boys I would have loved to see someone like her on TV. So this is for you, middle school Sarah. (Now stop wearing that weird vest and for Christ's sake, quit chewing on your hair.)
YAYA, Cycle 3
In a world where companies, universities, and even elementary schools can ban afros and dreads, Yaya kept her hair natural (and awesome). Even when Tyra bizarrely criticized her "Afro-centric" head wraps, Yaya stayed true to who she was. And that has paid off for her like crazy since the show: Yaya has been in movies, on television, and is even filming a Whitney Houston bio pic right now.