13 Children Who Will Give You Style Envy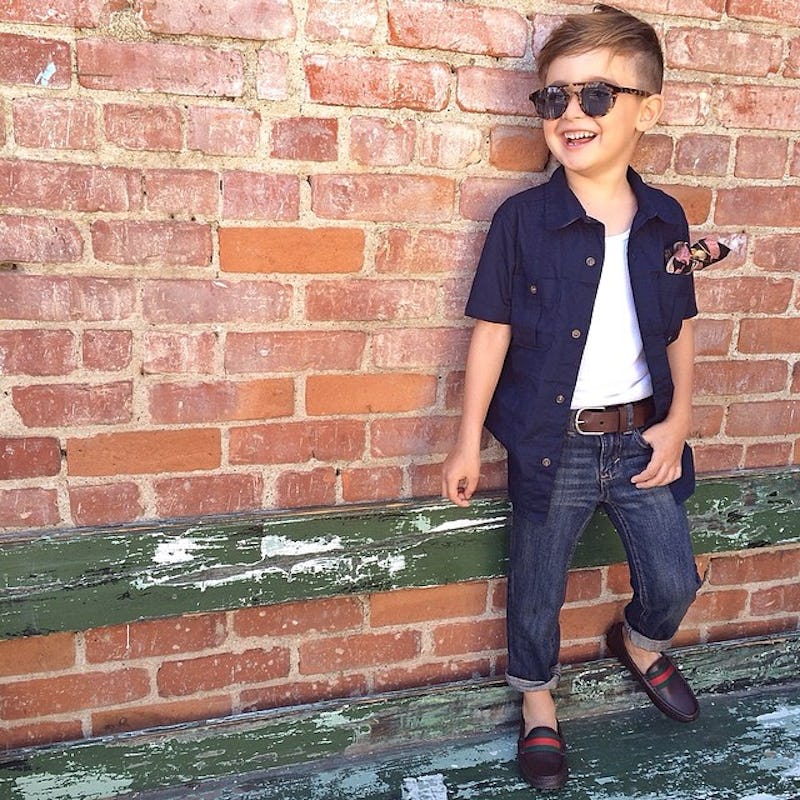 Kids these days, am I right? Don't they just seem so sophisticated with their smartphones and iPads? Seriously, I think kids are now born with tech skills. When I was in elementary school, I played with American Girl dolls and read books (physical books, not e-books). Also, I wore corduroy jumpers every day to school, usually with a cotton turtleneck underneath and my wild mess of red hair tamed by two basic braids. The most stylish — or so I thought — item I owned was a glitter-dusted camisole from Limited Too, which lost its sparkle after only a few washes.
But today, so many mid- and high-end labels are cranking out kids wear. There's Crew Cuts, American Apparel Kids, Burberry Children, Little Marc Jacobs, and Young Versace, where a newborn romper costs around $122.
A little ridiculous, sure, but there's no denying that kids are looking spiffier than ever. Or is that just filter vision?
Either way, here are 13 youngsters who are making some big fashion statements.
1. Stella Luna Pompeo Ivery
Ellen Pompeo's daughter knows how to work a monochromatic look.
2. North West
There aren't many pictures of baby North, but her mom, Kim Kardashian, provides all the photo evidence we need to know that her closet is worth more than yours and mine combined. These shoes from The Incy Collection (Charlotte Olympia's kids line) cost $129.
3. Mike "The Ruler" Hope
This 13-year-old's sense of style caught the attention of New York magazine... and over 9,000 Instagram followers.
4. Ryker Wixom
Speaking of Instagram stars, this is Ryker. At 4 years old, he's already received some attention for his looks that are inspired by high-end fashion ads. The looks are "hacked" by his working mom.
5. Alonso Mateo
Alonso's mother, Luisa Fernanda Espinosa, is a freelance stylist, so it's no wonder why this 5 year-old looks so sharp.
6. Maddox Jolie-Pitt
The eldest Jolie-Pitt, now 12, is setting the bar high for his younger sibs.
7. Willow Smith
Please say I'm not the only one who didn't look this good at 13.
8. Kingston Rossdale
Kingston, now 8, is already following in his mother's footsteps.
9. Lyric "The Diva" Hurd
Lyric is a 5 year-old model/actress with an interest in reading and hair to die for.
10. Isabella Souza
I can honestly say that, at 23 years old, I've never looked as good as this little girl does. Then again, my mom isn't a fashion stylist so I'll cut myself some slack.
11. Giulia Isabel Corcos
My mother also didn't take me to fashion shows, like Debi Mazar does with her daughters. (I still love you, mom.)
12. Skyler Berman
Rachel Zoe's son Skyler, 3, is stylish and reportedly knows how to skateboard. Quit while you're ahead, kid.
13. Flynn Bloom
Flynn's mom may be a Victoria's Secret Angel, but I still think he can teach her a thing or two about accessories.
Stay cool, kids!
Image Credits: Instagram/ellenpompeo; Instagram/kimkardashian; Instagram/miketheruler; Instagram/ministylehacker; Instagram/luisafere; Getty Images; Getty Images; Getty Images; Instagram/lyrichurd; Instagram/souzamaria; Getty Images; Getty Images; Getty Images