Mark Ballas is a Man of Many Talents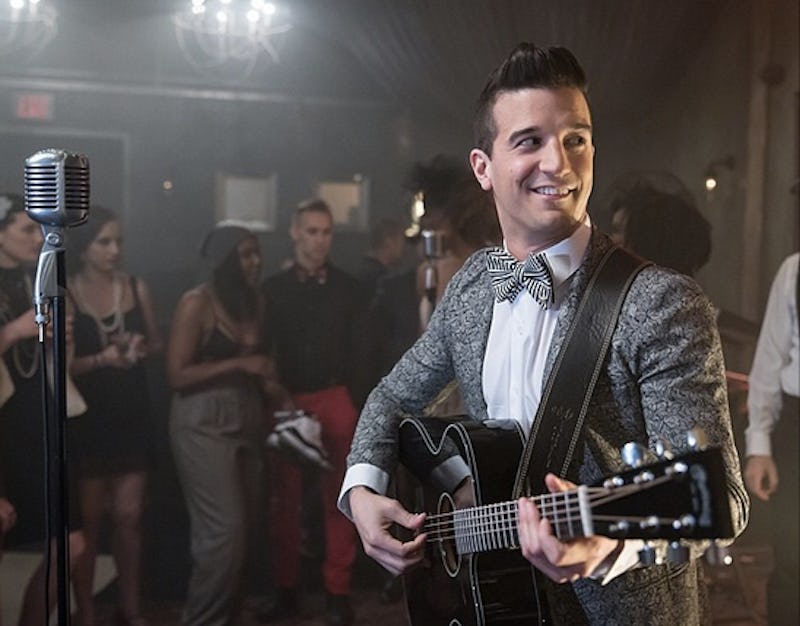 Dancing with the Stars pairs professional ballroom dancers with famous faces in an attempt to transform the celebrities into graceful swans on the dance floor. And while the show's big ratings come with thanks from the celebrities who come aboard, the outlandish and barely-there costumes and the overbearing sparkle of the crystal disco balls, at the heart of the ABC's evening offering is some damn good dancing. Bustle had the opportunity to chat with Mark Ballas, one of the show's longest running professional dancers and staple of the program. And while dancing is undeniably his strong suit, the 28-year-old is multifaceted, and just released a single that debuted at the number one spot on MTV.
"Get My Name" is a catchy pop tune that has the flavor of a Justin Timberlake track with the soul and likability of Pharrell's "Happy". And the music video for the song, which boasts a glut of Ballas' dancing peers and some retro costumes to boot, features a dance break not originally in the single version. And let's be honest, watching Ballas cut a rug is half the fun of the single.
"Usually when we do records I come in [to the studio] with guitar riffs or a melody or a concept idea for a song. The day we hadn't come up with anything for two days. We'd been in the studio, hanging out, thinking something would come organically. If it doesn't come, don't push it," he said.
But then, Ballas came up with the basic beat of the song, a single two-note beat that would be the backbone of the tune. "Within three hours we had the whole song done. It just flew out. It really happened organically, came out of nowhere," he said.
When it came to shooting the music video, Ballas knew the man to turn to was fellow Dancing with Stars dancer and long-time pal, Derek Hough.
"Derek and I have grown up together. Derek's very good at picking camera angles, he picks a lot of his own angles on Dancing with the Stars. We have a relationship where we talk to eachother honestly and openly. There was a great open line of communication. We are pretty much like brothers," he said of Hough, who recently won an Emmy for Outstanding Choreography.
And the video, which is chalked full of fun set pieces, dynamic camera angles and awe-inspiring dance moves was shot all in a days work, "under 12 hours" to be exact. While working with fellow professional dancers and long time friends might be easy, we wondered how it was to work with wholly unexperienced dancers in a short amount of time. Ballas has worked with a slew of famous faces, from singers like Christina Milian to socialites like Kim Kardashian, politicians daughters (Bristol Palin) and everyone in between. Last season Ballas was paired with Candace Cameron Bure of Full House fame.
"The quickest learner was probably Kristi Yamaguchi. Catherine Jenkins was pretty quick, really quick actually. Which is surprising because she didn't have any dance experience, she's not an athlete. Kristi sort of got it, same thing with Meryl, they're not dancers but they are very aware of their bodies," Ballas said. "Chelsea Kane was pretty quick, Shawn Johnson was quick, she got quicker later, but at the beginning she was a little slow. As the season progressed she picked it up real fast."
So what would be the first ballroom dance to teach to a green dancer? "Salsa," Ballas said without missing a beat. And salsa, like most ballroom dances, is a sexy and sultry number that usually requires Ballas — or moreso his partner — to be adorned in scantily-clad attire.
"Here's the thing people don't get: We choose our own costumes. Guys are like 'Oh I have to squeeze into this costume' I'm like 'Yo dude, you designed that costume. You chose that costume,'" Ballas said. "You'll see me a lot of times in a nice suit pant or tailored shirt, a bow-tie, a skinny tie, I like to keep it classy. There is the odd occasion where in a contemporary or a rhumba I will take a shirt off, if I have to, but normally I'm in stuff I'd normally where out." What about the girls? "With the girls, they design all their own outfits, those itty bitty little things."
Dancing, singing, playing the Flamenco guitar — Ballas is already a triple threat, but his talents don't stop there. "I'm really good at playing the yoyo. I'm a really good yoyo player. I'm a badass on a yoyo. I won a Yoyo competition in Houston Texas when I was like 12. It was a huge competition at this toy store, and I slayed everybody it was awesome. I actually still have my yoyo, I'm not as good as I used to be but back in the day, but when I was 12 I was killing it."
Yoyo badass-ery aside, what Ballas wants to become, and what we would argue he already is, is an expert in his musical and dancing crafts. "I want to be the guy that can sing, that can really dance, and that can really play their instrument. There's a hole for someone who can do both."
Watch the music video for Ballas's "Get My Name" below:
Images: Tumblr; Youtube; Instagram/@MarkBallas [3]