Will There Be A 'Mighty Ducks 4?'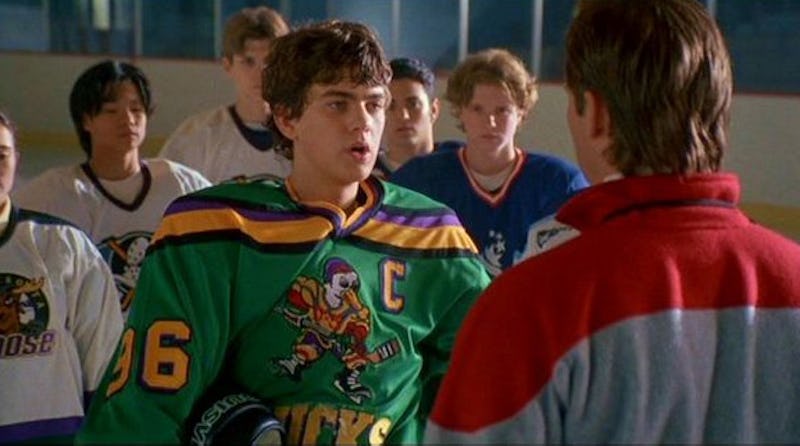 Nothing says "happy franchising!" like adding a 4 to the title of a movie, but if that 4 is next to a nostalgic tween sports classic, then by all means, Hollywood, go ahead. There's a slight, teeny possibility that there might be a Mighty Ducks 4 , which we may or may not have needed, but for the love of Joshua Jackson, a return of the Might Ducks could be a lovely, albeit unrequested, trip down memory lane.
Now, of course, Joshua Jackson couldn't reprise his role in a fourth Mighty Ducks, unless he played the same character who came back to coach the hockey team. Tween hockey: the gift that keeps on giving.
But if Jackson has any say in the making of Mighty Ducks 4, it would definitely come to fruition — even if he doesn't come back as an adult version of his character. He told Time:
I feel like a fourth film should happen, and if there was space for any of the original kids that come back and have a role, I would be surprised that anybody didn't want to do it.
Because everybody loves winter sports movies, especially ones that involve inspirational hockey. In fact, everybody could use some!
The next generation should have its own version. Not that we need to come back as adults, but I hope my kids grow up and play pickup hockey and I hope that they have their own movies like my generation had those movies. In that way, yeah, of course, I'd be a part of something like that.
So he'd come back and do it for the kids. Aww, how sweet. Every awkward tween needs to know that he or she can persevere and hit that (metaphorical) puck!
But why not come back and do something for the grownups, like a Dawson's Creek reunion? Hmm? Oh, I get it — teen dramas lack the emotional and inspirational pulse of cheesy inspirational sports movies, but come on. We still totally need a Dawson's Creek reunion.
Image: Walt Disney Pictures