Who Was Best Dressed In "EscApe from New York?"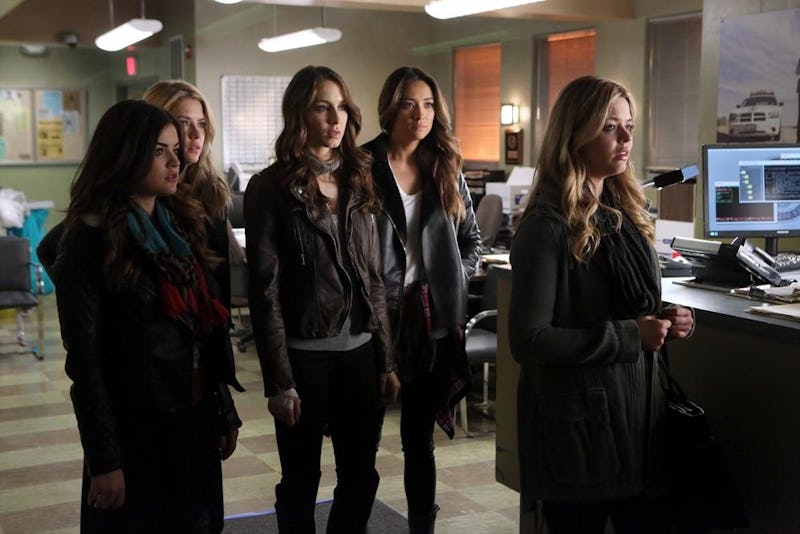 I generally count myself as an Aria girl (I'm an old-souled writer, after all), but this week I think the title of "best dressed" has to go to Spencer Hastings. It was tough to call, as the season 5 premiere of Pretty Little Liars took place over the course of less than a day, which meant way less time for costume changes. Without the Ali/Ezra flashback, we would have had zero! Plus, the girls were all bundled up for the cold in New York City — which, unlike Rosewood, apparently has actual weather — leaving less room than usual for originality.
Still, costume designer Mandi Line handily expressed each character's style DNA — no small feat when everyone was wearing some variation on a of jeans-boots-and-jacket ensemble. Aria wore a graphic tiger T, paired with a crazy leopard/bright red/bright blue braid-y, fringe-y scarf — and she didn't stop there. Nope, she also piled a huge-lapeled shearling moto jacket on top! It certainly showed off her punkish persuasions, but it was all a bit much in my opinion. Then Hanna, who generally makes the consistently prettiest fashion choices of the bunch, went in a strange direction as well. Her outfit featured a multimedia couch upholstery-adjacent brocade jacket, and she made the puzzling decision to pair black skinny jeans with putty-colored booties. Correct me if I'm wrong, but that seems like a huge no-no.
Ali may have been the worst offender in terms of level of boring — she wore an oversized gray parka, and a black scarf, top, and pants. She does get points for her summer maxi in the creepy Ezra flashback, but still, I think we all have higher expectations from Rosewood's former queen bee. Emily went standard tomboy in a white V neck, black jeans and moto boots, with a red plaid shirt around her waist, and a leather jacket on top of it all. Cute, but strangely enough, I don't think she ever untied the plaid shirt from her waist — was it purely an aesthetic touch? She never actually wore it!
So yes, it was Spencer who won the day with her classic chic/understated get up: a heather gray T, with a matching neckerchief, paired with a fitted leather jacket, black skinny jeans, and over-the-knee boots. Go Spence! I'm expecting a victorious animal printed button down next week to celebrate.
Images: Tumblr