Where is Pat McGrath's Makeup Line?!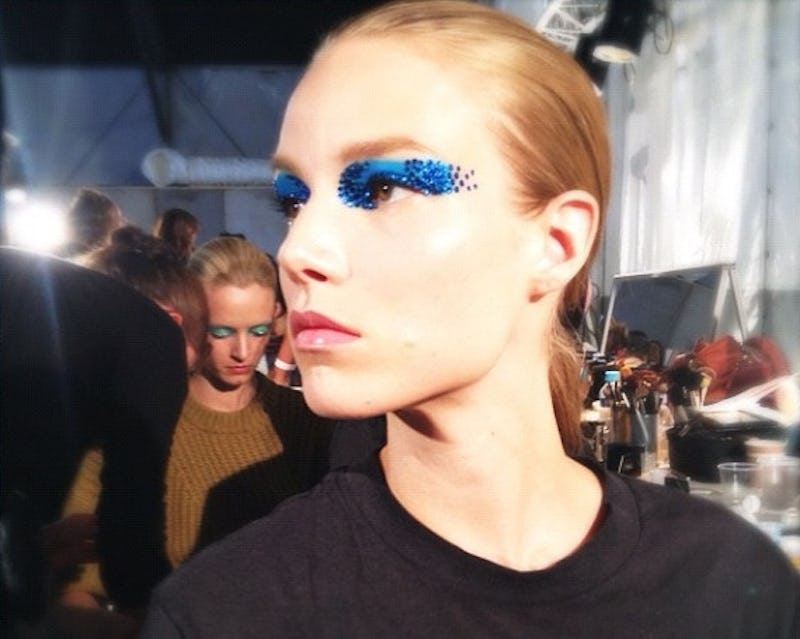 In the world of fashion, there are makeup artists and then there are makeup artists. Pat McGrath is the latter. She is the woman that brings the beauty to runways at every major fashion week and designer campaign around the world. She is also the brains behind some of the most iconic looks on film. Remember Rooney Mara's transformation into The Girl with the Dragon Tattoo? That was McGrath.
Supermodel Linda Evangelista says whole photoshoots fall to pieces if McGrath is not available and even the Queen of England came down from her throne to pay homage to the British beauty guru.
Her skill as an artist is second only to her ability to translate beauty trends for the masses. A Wall Street Journal profile breaks it all down:
Off the runway, McGrath is responsible for many of the last two decades' worth of makeup trends, including the dewy, plump skin that was so popular during the late '90s and the use of crystals on eyes and lips, fashionable in the 2000s. At Procter & Gamble Beauty—where she was hired in 2004 and now oversees CoverGirl, Max Factor and Dolce & Gabbana: The Makeup—McGrath helps translate the trends she sets on the runway into affordable, accessible products.
She is the second coming of the late great Kevyn Aucoin, so why doesn't she have a makeup line of her own already?!
The public has been waiting patiently for McGrath to create a line and she makes mention to WWD of her interest, but where are the goods?
McGrath showcases her enviable life and incomparable talent on her Instagram feed and each flawless look makes me dream of what a blessing a Pat McGrath makeup line would be to the world — nay, the universe.
1. Marie Antoinette Inspired
It looks more like a painting than a picture.
2. '70s Glam
Who doesn't want to be Amber Valletta in this picture?
3. Fur Eyebrows
Nothing like dramatic eyebrows to keep you warm in the winter.
4. Wealth of Color
McGrath's line would have colors we didn't even know existed.
5. Perfect Pink Pout
She is the master of the natural lip.
6. Body Makeup
We are obsessed with shoulder jewelry, so why not shoulder makeup?
7. Smokey Eye Queen
This version on model Joan Smalls is flecked with green that's actually wearable.
8. Mirror Makeup
I have no idea how this look would translate, but I'd like to see her try.
9. Best Bronzer Award
Hopefully she would have a full line of skincare products too.
10. Jackie 2.0
So awesome.
11. Goth Chic
Her work can range from pretty to edgy with the addition of black shadow and kohl eyeliner.
12. The Red Lip
Her collection would definitely have a perfect red shade for everyone.
13. All Shades of People
Her line would be all inclusive because everyone deserves to look fab.
14. Ombre Lip
I love the blue hair streak too.
15. Subtle Drama
I want this eye shadow shade right now.
16. Fresh Faced
Just when you think she can only do bold, she breaks out the dewy fresh look.
17. The Eye
Please Pat McGrath, make all my beauty dreams come true.
Images: giphy.com, Instagram/@patmcgrathreal