10 Feminists To Follow On Twitter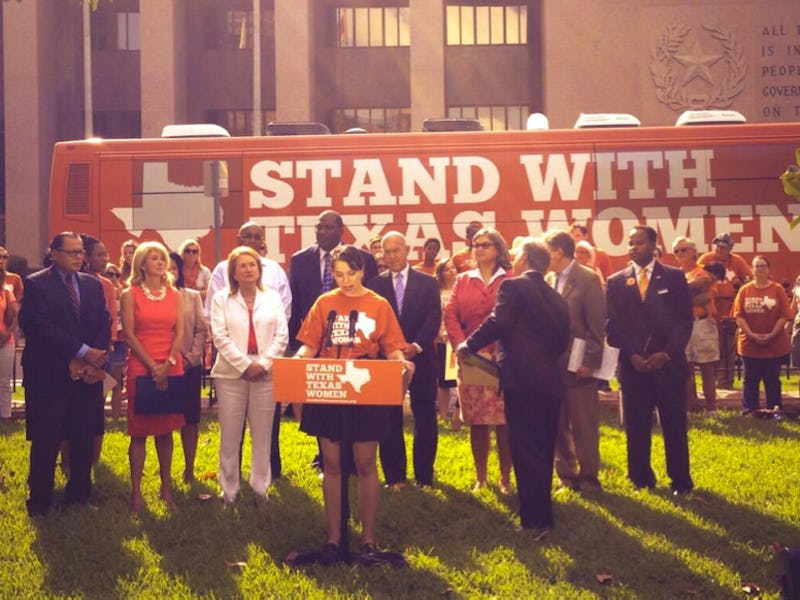 If you're a feminist who uses the internet (and hey, if you're reading this post that likely describes you), you probably already follow a few of these awesome people. But, in case you're looking for some new female-friendly, female-focused faces and voices on your Twitter feed, I've rounded up a few of my favorite feminists to follow on Twitter. Get that RT button ready, everyone.
Jessica W. Luther (@scATX): If you followed the #HB2 (Texas abortion law) developments in real time on Twitter, then you're likely aware of Jessica and her smart, incisive Twitter feed. If not, start following her right now... she's an editor of Flyover Feminism and also tweets about romance novels.
Jamilah W. Lemieux (@JamilahLemiuex): Jamilah is the digital news and life editor for Ebony magazine. She's also hilarious and opinionated.
Avital Norman Nathman (@themamafesto): Avital's Twitter feed is equal parts repro justice, feminist critique, and open-minded compassion...all with a little bit of Ani Difranco fandom thrown in (a woman after my own heart!)
Feminista Jones (@FeministaJones): Feminista Jones is, as far as I'm concerned, the queen of Twitter. She's extremely sex positive and she's organized her own social-media driven healthy living challenge, the #SexyShred.
Jodi Jacobson (@jljacobson): As the editor of RH Reality Check, Jodi's Twitter feed is great for the latest news on political issues that affect women, especially (obviously!) those related to reproductive rights.
Caroline Criado-Perez (@CCriadoPerez): Caroline started a campaign to put Jane Austen on U.K. banknotes and was repeatedly, horrifically harassed for it on Twitter. She publicized her experience, causing Twitter to change its policies on hate speech. Caroline is still tweeting, though, and still serving as one of the most visible feminists on Twitter right now.
Arwyn (@RaisingBoychick): Arwyn tweets a lot about gender-related stuff, everything from the proper way to write "cisgender" to personal stories about parenting her own children.
Soraya Chemaly (@schemaly): Soraya was instrumental in the movement to get Facebook to crack down on rape jokes, gender-based hate speech, and violence against women, back at the end of May. Follow her for all kinds of feminist news and opinion.
Sara Inés Calderón (@SaraChicaD): Badass nail art, feminism, and issues relating to Latino/as...what's not to like about Sara's feed?
Michelle Weiser (@riotcurrrl): Michelle's perspective on feminist issues always makes me rethink my privilege as a heterosexual cisgender woman, so that's one reason why I like her feed. She shares lots of fascinating links, too.
Feminist Midwife (@feministmidwife): The feminist midwife tweets about birth-y stuff and other issues related to reproductive rights, childbearing, and motherhood.