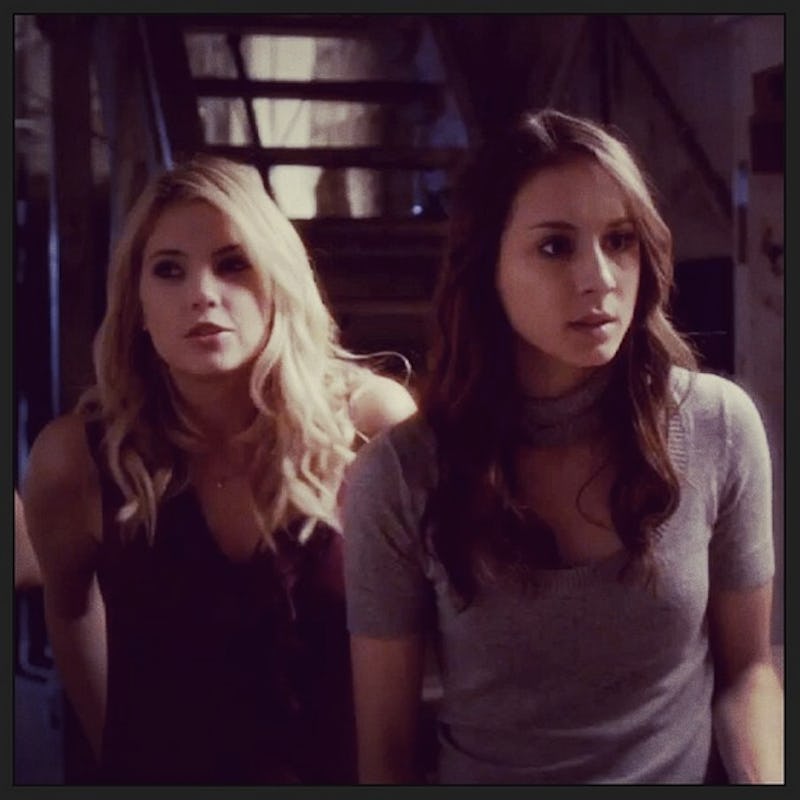 Before last week's Pretty Little Liars episode, costume designer Mandi Line Instagram'd a snap of herself dressed as her favorite little liar (Aria Montgomery, as it would turn out), along with a call to action: "dress like your fav."
While Line loves little liar Aria, I've always been partial to Spencer Hastings. Maybe it's because she's the closest to my own librarian (not the sexy kind)/flight attendant style. Or maybe it's because, save for Emily, Spencer has the arguably the simplest style; the most easily emulated. Most of us already own a printed button down, blazer, and tights after all.
Plus, it's been fun watching her style evolution: she went from ultra-preppy in season 1, to... well, still mostly preppy in season 5, but with a hint more "I spent some time in a mental hospital" flair. That said, her style honestly has changed quite a bit over the last 5-odd years: Last week's premiere saw her looking borderline edgy in a Rachel Zoe cutout turtleneck (yeah, I'd never heard of a "cutout turtleneck" either, but it looked pretty cool in the episode), a shrunken moto jacket, skinny jeans, and lace-up boots — that's a far cry from the schoolgirl chic Spencer of yore. In fact, I think it's safe to say that season 1 Spencer would never have been caught dead in plaid leggings and pointed-toe booties:
I love all instances of Spencer style, be they over-the-top preppy or preppy-cool. As such, here are a couple of wardrobe staples you'll need to create the perfect Spencer-inspired outfit:
Tops
Spencer favors both Ts and button downs, and she wears a lot of prints. I have a feeling she'd get a kick out of this triangle-dot printed top from J. Crew.
Bottoms
Go for classic skinnies (with boots, of course), a printed skirt, or something (you guessed it) school girl-y, like this Modcloth skirt with button detailing:
Sweaters
Spencer has a penchant for animal-printed (not to be confused with animal print, by the way) sweaters that I find kind of awesome. The bunny number from Sugarhill Boutique is pure adorableness!
Outerwear
When it comes to outerwear, go for something like a prep school-worthy piped blazer, a military-style peacoat, or a letterman jacket-inspired number. You get the idea: Something that looks like the fashionable version of some sort of uniform. You know, like this tuxedo-inspired blazer from J. Crew.
Shoes
Shoes are pretty open to interpretation; Spence has worn everything from sneakers to ballet flats to riding boots. That said, she's not opposed to a good bootie. These Dolce Vita booties will inject the perfect level of cool preppiness into any outfit:
Image: prettylittleliars/ABC Family; sleepinthegardn/Instagram