OMG This Dog Loves the World Cup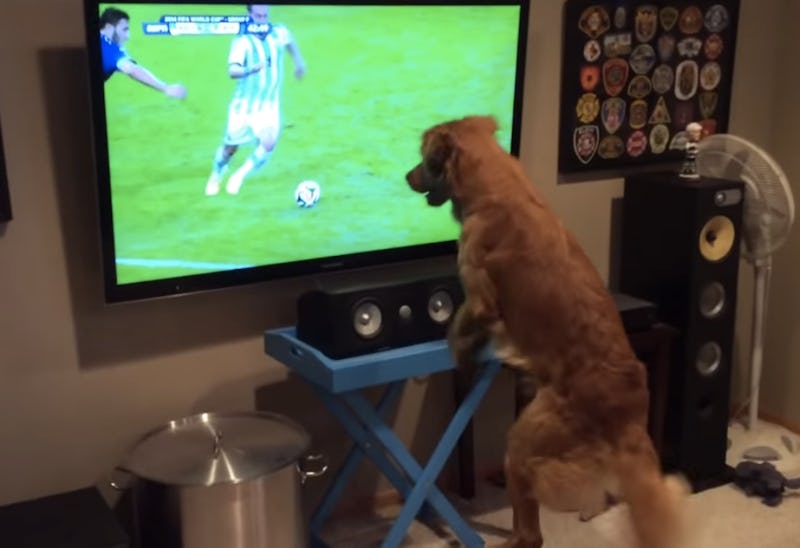 Everyone drop what you're doing immediately! We've been all been enjoying the 2014 World Cup for various reasons. Some of us are actually interested in the beautiful game. Some of us are more interested in the beautiful players. Some us really just want to know if Germany's Thomas Muller is off the market. And then there are those of us whose enthusiasm for the World Cup is outmatched by our dog's enthusiasm for the World Cup. Combining YouTube with a pet is practically a guaranteed method of getting a video to go viral, but, come on, this is just adorable.
The video features a dog named Georges who seems so excited to be watching the World Cup that he can't even contain himself. It's a full minute of Georges jumping up and down in front of the screen, regardless of what is actually going on in the game. The only time he manages to drag his eyes away from the action is when his human asks him if he's a big fan of the World Cup, which Georges easily answers by going right back to staring at the television screen. You can almost hear him barking, "This is what you interrupted my match for? Stupid human!"
The 2014 World Cup has basically been giving us all heart attacks as our favorite teams or favorite countries fight against each other for the title and I, personally, am still trying to recover from the fact that defending champion Spain is out of the competition. For that reason, this video was like a breath of fresh air and a balm to my wounded soul. How can you be upset about the World Cup when that dog is so happy?
Watch the video below and bookmark it for when you're in-between matches and just need a pick me up.