Season 3 of 'House of Cards' Is A Huge Mystery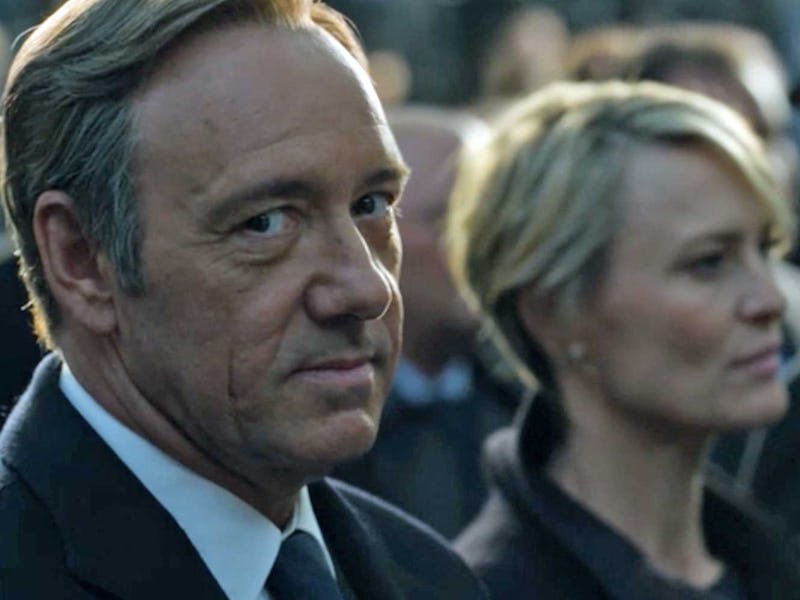 We all want to know about the next season of House of Cards, and there has been very little to whet our appetite. We have an idea of when it will air, and of course we've been speculating about what will happen. However, the actors and everyone else involved with the show have been spectacularly unhelpful in spoiling the season even the tiniest bit. It's actually pretty hilarious. All we can hope is that all that mystery means we're in for an exciting season. Here are some of their best non-answers (warning: some "answers" contain spoilers from previous seasons):
Washington Post: Do any characters have untapped potential or unplumbed depths?Showrunner Beau Willimon: Look at that sneaky question trying to get me talking about Season 3. WP: Speaking of that climactic moment between Rachel and Doug; is he going to be OK?BW: There's only one way to find out.WP: It looks like you're casting a few new reporters next season. Will they fare better than poor Zoe Barnes?BW: Alright, well, it's been great talking to you and I look forward to reading what you write.
Huffington Post: Are you really dead?Michael Kelly (who plays Doug Stamper): I don't know. They haven't officially said.
From Eonline: Spacey said both the show's writer-producer Beau Willimon and producer David Fincher have a "desire to see just how dark that well is and how deep does it go. We have miles to go before we sleep."
Michael Dobbs on Red Carpet News (start at 3:24): There will be a season 3.
From The Baltimore Sun: In a Sun interview Friday to promote his documentary "NOW: In the Wings on a World Stage," here's how Kevin Spacey responded when asked if "House of Cards" would return to Maryland to film Season 3. "It's probably best I don't add to the conversation, because whatever I say -- it's just going to get picked up as a headline," Spacey said. "So, I'm going to bow out and simply say I have every intention of starting shooting when we're supposed to be starting shooting in the state of Maryland."
Image: Netflix